New Products Honor Nurses and Help Customers Find Focus
key2Bme line of inspiring gifts adds three new designs
Press Release
-
updated: May 23, 2019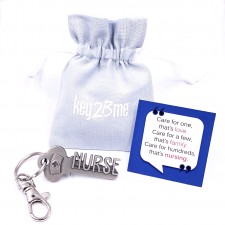 Cincinnati, May 23, 2019 (Newswire.com) - Hoi Polloi Trends today announced the launch of three new products in its key2Bme® line of inspiring gifts. The mission of key2Bme is to spread happiness and kindness and that's clearly resonating with customers as sales have experienced outsized growth since the product was launched in early 2016. The product was originally launched with just six designs and now, with this latest release, has expanded to 60 products.
One of the most anticipated releases is the "NURSE" key that comes on the heels of National Nurses Week earlier in May. According to the Bureau of Labor Statistics, nursing is one of the top five most popular jobs in America so it's no wonder it has been the single most requested key. This key comes with a mini quote card that reads, "Care for one, that's love. Care for a few, that's family. Care for hundreds, that's nursing."
Featuring a peaceful swirl of air, the company also released the "BREATHE" key today. Founder and CEO Tammy Nelson shared, "Being busy has become something of a badge of honor. And the stress of everyday life can sometimes be overwhelming. Clipped on a key chain, backpack or purse, our BREATHE key can serve as a reminder to inhale confidence and exhale doubt."
The third release is the "TODAY" key that comes with a mini quote card that reads, "Today is yours to shape. Create a masterpiece." It features an uplifting sunrise icon. "It's so easy to fall into the trap of always looking ahead and focusing on what's next," said Nelson. "This key is a great reminder to live in the moment – to seize the day and focus on the present."
About Hoi Polloi Trends and key2Bme:
Hoi Polloi Trends is a WBENC-certified Women's Business Enterprise that develops products that use the power of words to inspire and key2Bme is its flagship brand. Founded in 2011 and based in Cincinnati, OH, the mission of key2Bme is to spread happiness and kindness. Products can be found online and in select retailers. For more information, visit key2Bme.com.
----------------------
Contact:
Alisha Molloy, Operations Manager
key2Bme
Alisha@key2Bme.com
(513) 549-5553
SOURCE
Hoi Polloi Trends
Related Links
Source: Hoi Polloi Trends, LLC
Share:
---
Categories: Retail
Tags: breathe, carpe diem, focus on the present, just breathe, live in the moment, nurse, nursing, sieze the day, today
---