New Online Service Reveals Each User's Unique Learning Personality
Press Release
•
updated: Feb 20, 2018
Free version of Learning Personality Assessment provides insights to parents, educators and students of all ages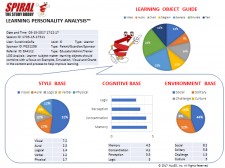 MOUNTAIN VIEW, Calif., February 20, 2018 (Newswire.com) - NuuED Inc. announced today that it has released a free online service designed to quickly discover a user's unique individual learning personality. Ideal for students, parents, teachers, curriculum designers and corporate learning programs, the online Learning Personality Assessment helps discover the best possible combination of methods and mixes of content which can be used by a child, young adult or adult learner to improve their understanding of a given topic.
Additional online offerings, including an in-depth report on each user's individual approach to learning and curriculum which is custom-tailored to that individual, are provided by NuuED as a value-priced service. NuuED services are delivered anywhere in the world, in any market on an internet-connected screen.
This free service complements schools, businesses and education-minded groups who share our goal of providing greater educational opportunities to everyone.

Derrick O'Neal, Founder and Chief Relationship Officer
The no-cost version of the service analyzes a user's responses as well as their ongoing behaviors and actions, correlating data across several key areas, including cognitive skills, environmental factors and learning styles.
The assessment results in a Learning Personality Report, which provides a baseline for understanding the learning needs of each individual user. The report reveals the best approaches and applications of content, tools and processes which can improve the user's skills, knowledge retention and capability to learn, retain and apply the information being studied.
In addition to releasing both free and paid versions of its online learning assessment, NuuED continues to develop internet-based subscription offerings which are focused on specific educational subjects in learning, training and certification. Several key positions at the company have recently been filled as NuuED grows to support its growing customer base.
"We're pleased to offer this service to anyone interested in finding out their own unique learning style," said Derrick O'Neal, founder and chief relationship officer of NuuED. "This free service complements schools, businesses and education-minded groups who share our goal of providing greater educational opportunities to everyone.
"The individual learner has been traditionally underserved," said O'Neal. "High costs and limited reach of educational solutions which are designed for the masses have led to a deep need for the services at which we excel. NuuED's Software-as-a-Service solutions offer personalized, customized instruction at a price point unmatched in the industry. We look forward to the personal discovery, success and growth of each and every individual learner using our solutions."
O'Neal added, "The future of education is personalized, adaptive learning."
The Learning Personality Assessment from NuuED Inc. is available immediately. Visit www.nuued.com for details.
About NuuED
NuuED Inc. provides a platform of online services which help learners, students and trainees of all ages improve their skills. Tools and services from NuuED help in all aspects of education by discovering and recognizing areas of positive diversity in learning and applying advanced technologies to help the learner.
NuuED is a privately held company headquartered in Mountain View, California, with a global delivery platform serving learners of all ages, everywhere. For more information, visit www.nuued.com.
Press Contact for NuuED:
Ben English
ben.english@nuued.com
Source: NuuED Inc.
Related Media
Tags