New Online Service Helps Prepare Students for Imminent Job Market
NuuED's Learning Objective Guide reveals early indicators of a student's aptitudes and opportunities for growth.
Press Release
-
updated: Mar 5, 2018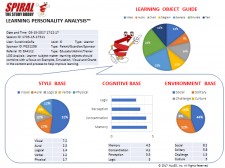 MOUNTAIN VIEW, Calif., March 5, 2018 (Newswire.com) - NuuED, Inc. announced today that it has released an enhancement to its online service designed to reveal a user's individual learning personality. The Learning Objective Guide can be used to discover early indicators of a person's strengths, aptitudes, and growth opportunities while tracking improvement in those areas.
Innovations such as robotics, artificial intelligence, and digital platforms are shifting the fundamental nature of work, and an increasing number of common, everyday jobs are undergoing automation. As technology advances, students of all ages face the need to rapidly adapt and learn new skills.
NuuED's approach to adaptive learning begins with a simple, brief, and engaging analysis, available for free online, which uses advanced technologies to highlight each user's individual learning personality. The analysis requires only a few minutes and takes into account the user's learning styles, cognitive skills, and environmental factors.
The resulting information about the user's unique learning personality can then be used to create a Learning Objective Guide for each individual learner. The Learning Objective Guide differs from other educational tools in several areas, primary of which is the customization of its results based on an individual's unique learning personality, rather than relying on the comparison of each student to a broad, impersonal standard.
As learners continue to use solutions from NuuEd, the technology platform automatically adapts and expands to meet the changing needs of each user. Customized content is delivered to each learner, based on their unique ability to process and retain information.
The NuuED approach to adaptive learning grows out of advanced cognitive analysis technologies and proven principles of instructional design. Educators and parents who engage with NuuED solutions on behalf of their students find that the service meshes smoothly with established methodologies, curriculum, and assessments.
"We offer the advantage of flexibility in learning and the opportunity for successful growth," said Derrick O'Neal, founder and Chief Relationship Officer of NuuED. "Whether the job of the future involves 3D simulations, video, or new ways of communicating with technology and each other, NuuED's adaptive learning platform can help students secure their own future."
NuuED technology and methodology have been proven via use case studies which demonstrate an average of 70% increase in skill and level improvement.
The Learning Personality Analysis from NuuED, Inc. is available immediately. Visit www.nuued.com for details.
About NuuED
NuuED Inc. provides a platform for online services which help learners, students, and trainees of all ages improve their skills. Tools and services from NuuED help in all aspects of education by discovering and recognizing areas of positive diversity in learning and applying advanced technologies to help the learner.
NuuED is a privately held company headquartered in Mountain View, California, with a global delivery platform serving learners of all ages, everywhere. For more information, visit www.nuued.com.
Press Contact for NuuED:
Ben English
ben.english@nuued.com
+ 1.650.318.3985
Source: NuuED, Inc.
Share:
---
Categories: Educational Technology, Public Schools
Tags: 3D simulation, adaptive learning, assessment, education, homeschool, instruction, learning, Learning Objective Guide, NuuED, SaaS, technology, video
---