New, Lyrical Rendition of the Bhagavad Gita Captures Attention of Western Yogis and Meditators
Song Divine is the first English translation of the Bhagavad Gita in verse and rhyme
Press Release
-
updated: Nov 8, 2017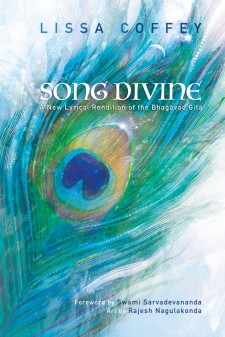 LOS ANGELES, November 8, 2017 (Newswire.com) - After experiencing the benefits of yoga and meditation, practitioners seek a deeper understanding of this ancient knowledge – and are ready for the spiritual lessons contained within the Bhagavad Gita. There has been a renaissance with all things Vedic these days. Yoga, meditation, and Ayurveda have become an important part of our own western culture. Lissa Coffey saw this coming back in 2004 when her bestselling book "What's Your Dosha, Baby" came out. It is a natural progression when we get into all this to search for more, and all roads lead to the spiritual aspect of it, the roots.
That's what the Bhagavad Gita is all about. But even with the editions available in English, there hasn't been one that has caught the attention of the west, that is easily accessible, and relatable without massive explanation. A long-time student of Vedanta, Lissa Coffey saw this need.
Profound Wisdom, Poetic Verse
An award-winning songwriter, Lissa put her skills to work. Song Divine is written in verse and rhyme, the way the Bhagavad Gita (translated to "The Song of God" from Sanskrit) was originally intended. It is poetic, taking away the heaviness of trying to decipher the original text and leaving the pure, simple, spiritual truths.
Song Divine includes illustrations by acclaimed artist Rajesh Nagulakonda, adding a colorful creative component to the text, as so much can be conveyed through images. Song Divine is appealing to all ages, and all cultures. It is a unique blend of east and west, ancient and modern, providing the universal spiritual messages that we so desperately need to hear right now in a beautiful presentation.
This is the very first time that the Bhagavad Gita has been translated into rhyming English verse and published as a book in the United States. More information about Song Divine is available at SongDivine.com.
Press Contact: Ophelia Soumekh, publicist, 818-370-9025, editor@coffeytalk.com
Acclaim for Song Divine
"Poetic, practical, and accessible, Lissa Coffey's beautiful and passionate translation is a must for anyone looking to bring the Bhagavad Gita into daily life."
--Gary Jansen, Author of Life Everlasting and The 15-Minute Prayer Solution 
"The Bhagavad Gita, since the time of Emerson, Thoreau, and Walt Whitman, has stirred the American imagination with its powerful call to action. Lissa Coffey's new abridged version delights the reader with lilting rhyme, conveying the core teaching of Yoga found in the Gita: Act without attachment to the fruits. Know what is most important. Find time to meditate. Orient yourself toward the highest. Bravo!"
--Christopher Key Chapple, Doshi Professor of Indic and Comparative Theology and Director, Master of Arts in Yoga Studies, Loyola Marymount University
"​Lissa's love of the Bhagavad Gita is so completely heartfelt in this beautiful translation. What I love most about Song Divine is that it makes the Gita accessible for all to enjoy and love as much as Lissa does."
--Madisyn Taylor, Co-Founder, Editor in Chief, DailyOM
"In this beautiful book, Lissa Coffey brings out a much-hidden secret of Vedanta: Words don't carry meaning, words carry effects. A word is a Veda if it can produce an effect, says Vivekananda. Most seekers get lost in the meaning of the words of Bhagavad Gita. Lissa has given us a very simple and easy way to bring out the desired effect of experiencing Brahman. This could well be a new and much easier way of studying the Bhagavad Gita. Read it. You will be surprised."
--Sri Vishwanath, Author of The Secret of Bhagavad Gita and founder of Bhagavad Gita University
"Lissa Coffey has dived deep into the Gita with her fearless dedication to extract its essence, transformed that essence into English verse, and then shared it with us in this wonderful book."
--Swami Mahayogananda, Vedanta Society of Southern California
"We can never have enough interpretations of the Gita's complex and eternal wisdom, with its practical relevance for seekers on every possible path. The Song Divine by Lissa Coffey, with its charming rhymes and rhythms, is a most welcome addition. A Gita that delights as well as teaches."
--Philip Goldberg, Author of American Veda: From Emerson and the Beatles to Yoga and Meditation, How Indian Spirituality Changed the West
Source: Lissa Coffey
Share:
---
Categories: Books, General Interest, Religion, Yoga / Meditation, Personal Growth
Tags: Bhagavad Gita, book, eastern wisdom, Krishna, meditation, poetry, religion, song, spirituality, translation, verse, yoga
---