New Legislation Strengthens Florida's Condo Laws
Press Release
-
updated: Aug 30, 2017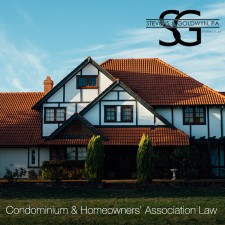 PLANTATION, Fla., August 30, 2017 (Newswire.com) - The new Florida law that establishes criminal penalties for association charlatans should help many associations to contend with suspicious and irregular activities by unscrupulous board members.
Association boards of directors control the purse strings for their condo communities, and as such, they have been made targets for charlatans who conspire to assume control via their annual board elections. For example, in a Las Vegas case, a U.S. Justice Department investigation revealed that 11 associations were defrauded of tens of millions of dollars in a board of director's takeover scheme from 2003 to 2009. 41 defendants were convicted of rigging board elections through such tactics as traveling to Mexico to print phony ballots, using the master key at a condominium complex in order to remove ballots from mailboxes, and retrieving discarded ballots from condo dumpsters.
The new legislation has ushered in significant changes to the state's laws and the Department of Business and Professional Regulation's blanket jurisdiction in upholding them. Some of the most important changes include criminal penalties for matters of willful and intentional acts such as fraud and self-dealing.
Specifically, the penalties include:
Forgery of a ballot envelope or voting certificate used in a condominium association election is punishable as a felony of the third degree in accordance with Section 831.01, Florida Statutes, which can carry a prison term of five years.
Theft or embezzlement of funds of a condominium association is punishable based upon the amount of the theft or embezzlement in accordance with Section 812.014, Florida Statutes.
Destruction of or refusal to allow inspection or copying of an official record of a condominium association that is accessible to unit owners within the time periods required by general law in furtherance of any crime is punishable as tampering with physical evidence in accordance with Section 918.13, Florida Statutes or as obstruction of justice as provided in Chapter 843, Florida Statutes.
An officer or director charged by information or indictment with a crime referenced above must be removed from office and the vacancy shall be filled, unless the bylaws provide otherwise, by electing a new board member, and the election must be by secret ballot. The vacancy created by the removal of such officer or director shall be filled until the end of the officer's or director's period of suspension or the end of his or her term of office, whichever occurs first.
If a criminal charge is pending against the officer or director, he or she may not be appointed or elected to a position as an officer or a director of any association and may not have access to the official records of any association, except pursuant to a court order.
If the charges are resolved without a finding of guilt, the officer or director must be reinstated for the remainder of his or her term of office, if any.
Stevens and Goldwyn concentrates its efforts in Homeowner law for condo and housing associations across South Florida. Association directors, members, and managers who believe they may have evidence of criminal violations under this new law should consult closely with a highly experienced homeowners association attorney in order to determine their next steps. 
About Stevens and Goldwyn: As Florida trial lawyers, the real estate attorneys at Stevens and Goldwyn provide legal guidance to clients in numerous types of commercial and real estate transactions and help them resolve issues through arbitration, mediation, and courtroom litigation. Call (954) 476-2680 for more information. 
Source: Stevens & Goldwyn, PA
---
Categories: Real Estate, Real Estate, Law Firms, Real Estate Investments, Condominiums, Real Estate Law
Tags: Florida Homeowners Association, Fort Lauderdale HOA Lawyer, Fort Lauderdale Real Estate Lawyer, Homeowners Association Attorney, Homeowners Association Lawyer
---