New Home Ground Breaking for Habitat for Humanity & G.J. Gardner Homes
G.J. Gardner Homes Northwest Fresno Teams Up with Habitat for Humanity Fresno County to Build Two New Homes in Riverdale
Press Release
-
updated: Feb 20, 2018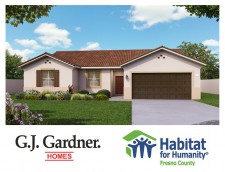 RIVERDALE, CA, February 20, 2018 (Newswire.com) - G.J. Gardner Homes, a Central Valley based home building company, is teaming up with the Fresno County affiliate of Habitat for Humanity to build two brand new homes in Riverdale, California. The construction has begun on both homes which will both be 1,548 square feet. The home was designed by G.J. Gardner Homes and is one of their most popular floor plans. The homes feature 4 bedrooms, 2 bathrooms, and an open living area design.
"We have enjoyed being a part of the growth here in Riverdale, and we love giving back to the community," states Mel Casey, owner of G.J. Gardner Homes Northwest Fresno. "We partnered with Habitat for Humanity, not only for its mission of generosity within our community, but also because we share a common commitment to helping families realize the American dream of owning their own home."
G.J. Gardner will be the general contractor, coordinating and building this high quality and energy efficient homes. "Habitat for Humanity provided information on the family whose homes we were building," says Casey. "This really helped us connect and makes our efforts feel even more tangible.  It's a great feeling knowing we are making a difference in the life of two very deserving families."
"We're really excited about our new partnership with G.J. Gardner­­ and are grateful for their generous support to the community we both share," says Matthew Grundy, CEO of Habitat of Humanity Fresno County. "It has been a pleasure working with G.J. Gardner Homes, and we look forward to seeing these two homes come to fruition for these two incredible families".
Habitat for Humanity is a nonprofit nondenominational organization that seeks to eliminate poverty housing and homelessness from the world. Through volunteer labor and donations of money and materials, Habitat builds and rehabilitates simple, decent houses with the help of the homeowner (partner) families. Habitat houses are sold to partner families at no profit and financed with affordable loans. The homeowners' monthly mortgage payments are used to build more Habitat houses. Habitat has built more than 250,000 houses around the world, providing more than 1 million people in more than 3,000 communities with safe, decent, affordable shelter. Since 1985, Habitat Fresno County has severed over 450 families though its various programs designed to lift families and stabilize neighborhoods.  To learn more about Habitat for Humanity Fresno County visit www.habitatfresno.org.
"We're very pleased to be supporting Habitat for Humanity Fresno County by building these two homes in Riverdale" says Casey. "We're hoping to once again raise the bar and set an example for other companies, no matter how large or small, that everyone can make a difference."
About G.J. Gardner Homes
G.J. Gardner Homes has been operating worldwide for thirty years.  In the United States specifically, G.J. Gardner has had a strong presence in the San Joaquin Valley for the past 11 years, having built over 500 homes.  Each G.J. Gardner Homes office is owned and operated by local licensed custom home builders who take pride in their workmanship and outstanding customer service. G.J. Gardner Homes is committed to building its business through excellent customer service.  The company's unique 5 Star Performance Program maintains the highest standard of workmanship throughout the building of each new home. G.J. Gardner has hand selected its subcontractors for their standards of expertise and their commitment to excellence. 
In California G.J. Gardner has offices and showrooms to serve the community located in Bakersfield, Clovis/North East Fresno County, Fresno County, Kings County, San Luis Obispo County, Santa Barbara County and Tulare County.  G.J. Gardner Homes operates and maintains a design center at each franchise where customers can meet the full team who will be involved in the organization and building of their new home.  For more information, please visit www.gjgardner.com .
Source: G.J. Gardner Homes
Share:
---
Categories: Non Profit, Housing and Community Planning and Development, Real Estate, Local News
Tags: community, Fresno, GJ Gardner, Habitat for Humanity, home building, new home, non-profit, Riverdale
---