New Headquarters for the CBORD Group, Inc.
Press Release
•
Sep 12, 2016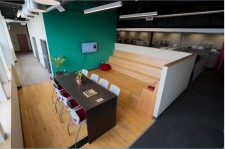 Ithaca, NY, September 12, 2016 (Newswire.com) - CBORD® is pleased to announce it has completed the move of its headquarters to new facilities at 950 Danby Road, Suite 100C, within the South Hill Business Campus in Ithaca, New York. Previously CBORD's headquarters were located at 61 Brown Road within Cornell's Technology Park.
"CBORD's new facilities create a great workplace for our growing team," commented Max Steinhardt, president of the company. "This is a milestone for us. Previously CBORD occupied two separate buildings within Cornell's Technology Park—growth of the company created a need for a satellite building, removed from the rest of the primary headquarters at 61 Brown Road. Bringing all of our people together in one building along with the new space's open layout fosters the collaborative work space essential for innovation." The new 41,820 square foot facility houses 216 of CBORD's 430 employees and works in conjunction with additional offices located in Canton, Ohio; Cypress, California; Dubai, United Arab Emirates; Sydney, Australia; and Waco, Texas.
Bringing all of our people together in one building along with the new space's open layout fosters the collaborative work space essential for innovation.

Max Steinhardt, President
John Snyder Architects in conjunction with Welliver Construction spearheaded the project which was managed by Jodi Lee Denman, senior director of service operations. "CBORD was founded in Ithaca, New York by former Cornell graduate John Alexander over 40 years ago, and we are delighted to continue to grow in Ithaca," said Denman. "We wanted to partner with local vendors and service providers whenever possible during this project, giving back to the community who have consistently supported CBORD from its initial conception to becoming the global company that it is today."
The newly renovated space had been repurposed over a period of years according to South Hill Business Campus Property Manager, Linda Luciano. "We are thrilled to have CBORD operating within our facility. CBORD is an exceptionally good fit for South Hill, and we look forward to supporting their operations for many years," she said. Both Luciano and Andy Sciarabba, CEO of South Hill Business Campus, worked closely with Denman over the course of the project.
Local service providers and vendors who partook in this two-year project include: Tom Mellberg, All-Mode; Matt Hawley of Air Temp; Ben Heller of The Computer Room; Dave Burbank of Dave Burbank Photography; Susan Alexander of EM Pfaff & Son; Aaron Baker of Ithaca Sign Works; John Snyder, Bill Todd, and Sarah Wilkinson of John Snyder Architects; Larry Young of Richardson Brothers Electrical Contractors; Doug Sedgwick, Kelly Yates, and Justin Jones of Sedgwick Furniture; Michael Stamm, president and Heather McDaniel, vice president, of Tompkins County Area Development; and Terry Fisk and a team of locally staffed laborers for Welliver Construction.
About CBORD
CBORD powers technology solutions for higher education, healthcare, senior living, and business campuses enabling users to create optimal experiences for their students, patients, employees, and residents. Guided by customer-centric development and support, CBORD has pioneered software for dining operations, nutrition analysis, security, card systems, and housing for forty years.
CBORD operates as a unit of Roper Technologies, a constituent of the S&P 500®, Fortune 1000®, and Russell 1000® indices. Roper designs and develops software (both software-as-a-service and licensed), and engineered products and solutions for healthcare, transportation, food, energy, water, education, and other niche markets worldwide.
###
Source: CBORD
Related Media
Additional Links