New Dating App DuoMe Suggests Matches Based on Myers-Briggs Personality Type Indicators
Press Release
•
Feb 1, 2022
DuoMe users can meet matches based on their fundamental communication and compatibility needs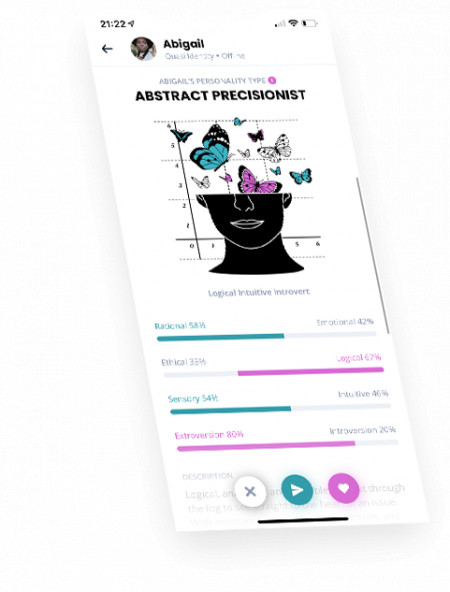 NEW YORK, February 1, 2022 (Newswire.com) - Don't leave love to chance is the advice offered by DuoMe, a recently launched dating app that lets users make matches based on official Myers-Briggs personality type indicators.
DuoMe users can create detailed dating profiles and meet matches based on their fundamental communication and compatibility needs.
The Myers-Briggs Type Indicator is a self-report questionnaire indicating differing psychological preferences in how people perceive the world and make decisions.
Singles using the DuoMe app can learn their MBTI personality and make matches that last. DuoMe's unique algorithm accurately captures key compatibility factors so singles can find partners who complement their strengths and weaknesses and then plan dates.
CEO Raana Khan teamed up with Anna Arima and Alex Smirnov, the site's CMO and CTO, respectively, and co-founders, to create DuoMe after Arima and Smirnov had gone through years of dating and being unsatisfied with existing dating sites on the market. Both Khan and Arima are Harvard Business School graduates.
"Knowing how your personality type fits with your match will lead to exciting experiences, strong communication and lasting relationships," Khan said.
DuoMe's algorithms were created by professionals with more than 20 years of experience with MBTI questionnaires. As a result, the site replaces tedious searching and swiping with useful insights that produce lasting, meaningful matches.
DuoMe is free to download and use. In addition, users can select specialized upgrades within the app that will make finding potential partners easier than ever with features like unlimited likes, personality-based matches, and more.
Users can create and view detailed profiles and receive extensive information on compatibility dynamics for each match. In addition, DuoMe's security measures include phone verification, and the app is LGBTQ+ inclusive.
"DuoMe is available only in New York upon its launch because one of the app's functions is to suggest perfect places for dates for different personality types. Each date idea is tailored to specific compatibility factors and mutual interests based on individual match dynamics. Over time, DuoMe will expand to additional cities," specifies apps CTO Alex Smirnov.
DuoMe is available for download on the Apple App Store and Google Play.
For more information about DuoMe, visit duome.us. 
Source: DuoMe