New Collection From Metals & Pieces Launches With a Celebrity Bang
Press Release
•
updated: Feb 27, 2018
From the Hudson Valley Black Dirt Fields all the way to Hollywood, local jewelry brand Metals & Pieces to Participate in GBK's Luxury Celebrity Gift Lounge in Honor of the 2018 Oscar Nominees and Presenters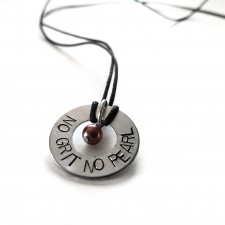 Florida, NY, February 27, 2018 (Newswire.com) - ​​We are pleased to announce Metals & Pieces, in association with The Artisan Group, will participate in an invitation-only luxury celebrity gift lounge hosted by GBK Productions on March 2-3, 2018 at an exclusive location in Beverly Hills, California in honor of the Oscar nominees and presenters.
All attending celebrities, select press and media, and other VIPs will receive our all new "No Grit No Pearl" Necklace in their swag bags. This event will also be attended by around forty press and media outlets.
It's a busy week for Metals & Pieces. The luxury celebrity gifting lounge comes right on the heels of the launch of the much anticipated "Duelist Collection".
"The most exciting thing about my all new collection", says designer Melissa Pikul, "is that it's all about pushing boundaries. We set boundaries and constraints on ourselves every day without even thinking about it, and allow those limitations to put a stopper on the great things we can accomplish. I am breaking that trend right now."
How? With an empowering jewelry line composed of designs to arm you to be your best self. Using a combination of hand stamped motivations, glittering crystals, and recycled bullet casings every one-of-a-kind piece in "The Duelist" challenges every woman to own and embrace all facets of her identity. It honors the desire and strength needed to push outside your comfort zone, and celebrates obliterating the personal limits holding you back.
Just as every exquisite pearl is built around a grain or grit of sand, every woman deserves the encouragement to break down barriers and step into the great potential for success she holds inside herself.
About Metals & Pieces:
Metals & Pieces is a hand-crafted jewelry brand dedicated to empowering women to see and believe in their own strength, to bring out their hidden badass, and to unlock their inner warrior. Metals & Pieces designs feature both historical chainmaille armor techniques and modern recycled bullets and shotgun shells that makes your jewelry a reminder that you have more: more grit, more personal power, and more you.
Metals & Pieces jewelry has been featured on runway shows at NYFW and gifted, in affiliation with The Artisan Group, to Wonder Woman Gal Gadot.
To check out our new designs and get your own "No Grit No Pearl" award go to www.metalsandpieces.etsy.com . Join our adventure on Instagram at http://www.instagram.com/metalsandpieces Facebook at http://www.facebook.com/metalsandpieces and Chat with designer Melissa Pikul at melissa@metalsandpieces.com ​
Source: Metals & Pieces
Related Media