New Children's Book on Diversity is Just What the Doctor Ordered
A writer's mission to open society's eyes on bullying through a cow who makes chocolate milk!
Press Release
-
updated: Sep 20, 2017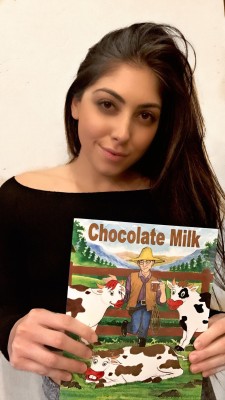 SCOTTSDALE, Ariz., September 20, 2017 (Newswire.com) - Writer and award-winning filmmaker, Alexandria Rose Rizik, is releasing her debut children's book, "Chocolate Milk," on September 25th! This is the story of a special cow named Star. When Star is milked for the very first time, Mr. Jones and her sisters are stunned to see that her milk is brown. She is teased and picked on until Mr. Jones invites the doctor over to take a look. After a full examination, the doctor decides to try her milk only to discover that it is chocolate! Star's milk becomes a huge success at the farmer's market and sells out fast. In the end, her sisters realize that they have been quick to judge and apologize to Star after trying her "mooolicious" milk. Star is here to remind people of all ages that being "different" from others might not be so bad after all.
Alexandria's story, "Chocolate Milk," was originally written for an assignment for her English class almost seven years ago when she was just 17-years-old, while she was simultaneously running an anti-bullying campaign — Save A Soul, Save The World. Her favorite part about literature is the impact it can have on its reader — that is why she is so excited to share this message with the world of why it is wrong to judge others.
In a time where there is so much prejudice and bullying toward people for being themselves, Alexandria wanted to create something that will not only remind children, but adults alike, that you are NOT alone. No two people are alike and our differences are what make us so special! Her goal is to instill in young peoples' minds that they should embrace the traits that make them "weird" because those are what make them diverse and special. Her end goal for this book is to eventually adapt it into a children's anti-bullying TV series to educate kids about diversity.
She said that she wrote this book during a point in her life when she was "devastated to hear that so many kids were taking their own lives due to bullying" — and now, seven years later, it is more relevant than ever because "our world is so divided and it needs to change." She wants people to start "embracing their insecurities and turning them into chocolate milk!"
Alexandria was born and raised in Scottsdale, Arizona. She was brought up by a large Armenian family. Her love for writing began when she was a young child and her aunt bought her a journal. She told Alexandria to write her a story and the rest was history. She received a degree in English from Arizona State University. She enjoys writing Young Adult Fiction along with many other genres of writing; from poetry to children's picture books. Her favorite part about writing is being able to write the "happily ever after" that doesn't always happen in real life.
"Chocolate Milk" is available for pre-order on Amazon as an e-book — paperback will be available on Sept. 25th! Make sure to follow Alexandria at AlexandriaRoseRizik.com, Facebook.com/ARoseRizik, and on Instagram: @alexandria_rose_writer.
Contact
For more information on this story, please contact
Monica Monroe || Media Relations
c: (480)-518-3333
e: info@princessroseproductions.com
END.
###
Source: Alexandria Rose Rizik
Share:
---
Categories: Books, Diversity, Education
Tags: anti-bullying, children's book, literature
---