New Book Brings Space Exploration Into Classrooms, Inspiring Students of All Ages With STEM
Press Release
•
updated: Jun 12, 2018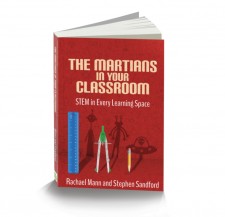 Irvine, CA, June 12, 2018 (Newswire.com) - The ways young people experience the world and education is vastly different today than it was 10, 20 or 30 years ago. In their backpacks and back pockets, students carry more computing power than the entirety of NASA in 1969, when they took two astronauts to the moon and back. It's little wonder that teachers often feel their students resemble alien life forms.
In their new book, The Martians in Your Classroom: STEM in Every Learning Space, Rachael Mann and Stephen Sandford, question legacy thinking in education and the systems that no longer serve today's youth. They reimagine what is possible for students and ask teachers to help prepare them for the next generation of jobs that do not yet exist and for career paths in the communities, countries and even planets they might not recognize.
"I don't think the human race will survive the next thousand years, unless we spread into space. There are too many accidents that can befall life on a single planet. But I'm an optimist. We will reach out to the stars."

Stephen Hawking
Research by Randstad North America in 2016 indicated 3 million more U.S. STEM jobs than skilled workers to fill them. "America depends on its technological leadership for security and a healthy economy. Yet we are in danger of losing that very technological leadership," Stephen Sandford writes.
By establishing what Mann and Sandford call a Martian Classroom, educators can emphasize individualized learning, mastery learning, and most importantly, frustrating learning through STEM-oriented lesson plans involving Space exploration. Regardless the subject area or grade level, Space exploration never fails to cultivate interest and inspire. It also creates beneficial spinoffs that lead students to think critically and explore beyond their current mindset.
"Connecting studies to real-life applications in space exploration generates the excitement in the classroom that is needed to make classes more interesting, and the related careers more appealing, and this requires a greater emphasis on career and technology education (CTE) to provide these hands-on opportunities to explore STEM fields," Mann writes.
The Martians In Your Classroom details the necessity of "backwards by design" forecasting and futuristic skill sets preparing students to succeed in a vastly different society. Learning spaces and content is designed accordingly. Readers find Space-oriented bookshelf, website, and app recommendations, as well as a Martian Classroom terminology reference, and fascinating Space facts and stats. Launchpad activities close out every chapter providing researching, writing and discussion topics.
# # #
The Martians in Your Classroom: STEM in Every Learning Space
By Rachael Mann and Stephen Sandford
EdTechTeam Press
$24.99 paperback; $9.99 eBook
PUB DATE: June 15, 2018
Library of Congress Control Number: 2018942426
ISBN: 978-1-945167-47-8 (paperback) ISBN: 978-1-945167-48-5 (eBook)
To learn more about The Martians in Your Classroom: STEM in Every Learning Space visit www.edtechteam.com/books/martians-in-the-classroom
For an interview with Rachael Mann, please visit www.RachaelMann.co or find her on Twitter or Instagram @RachaelEdu.
For an interview with Stephen Sandford, please visit www.thegravitywell.org or find him on Twitter or Instagram @SPSandford.
Source: EdTechTeam
Related Files
Additional Links