New Baywatch Trailer Parody...Definitely Not "Pale" in Comparison
Can you be albino AND a lifeguard? Actor/Comedian, Dennis Hurley, says...maybe?
Press Release
-
updated: Apr 24, 2017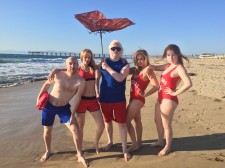 Los Angeles, CA, April 24, 2017 (Newswire.com) - With nostalgia being a hot trend in Hollywood, and a slew of green-lit reboots happening, Los Angeles based actor-comedian, Dennis Hurley still has his eye on being the new Prince of online Parody, releasing his spoof of the new Baywatch Movie.  ​​
This spoof serves as both a send up of Baywatch (in theaters May 25, 2017) and as a PSA, of sorts, reminding fair skinned folks, like Hurley, to wear lots of sunscreen, this summer.  The premise of Palewatch centers on a group of "pigmentally challenged" lifeguards who lack the melanin one might, in fact, need in order to spend hours at a job running in slow motion to save swimmers in hot, bright climates.  
Dennis Hurley doesn't just have a skin condition; he's in the acting business. And he said it affects the callbacks he gets. Hurley is albino, a condition that affects the cells that produce pigment in his skin, hair and eyes. People with albinism typically have very pale skin and white hair.
Dennis himself has Albinism, a congenital disorder characterized by the complete or partial absence of pigment in the skin, hair and eyes.  Dennis came up with the idea after watching the new
Baywatch
movie teaser and thinking about the perils he's already faced being an albino actor living in Los Angeles. 
The Cast features:
Dennis Hurley  @itsdendo
​Kersten Haile  @kerstenhaile
Marquel Skinner  @marquels
Marie Christiana  @mariegingerchrist
​Vinnie Duyck  @VinnieDuyck
Danni Spring  @dannispring1
Chris Kapcia  @Chris_Kapcia
​Macklen Makhloghi  @MacklenMak
Written by:
Dennis Hurley
​Robert Woo
​Vinnie Duyck
Cinematography:
Zach Ginnever
Directed and Edited by: 
Vinnie Duyck
Baywatch Theme:
"I'm Always Here" by Jim Jamison​​
In 2006, Dennis released his short, The Albino Code, a parody of The DaVinci Code which he wrote and starred in.  Dennis likes to poke fun at the sometimes cliched writing and casting choices Hollywood makes when it comes to people with albinism or people with disabilities, in general. Please visit www.7fluidoz.com/albinocode for the full story.
Ten years ago, his parody was met with international acclaim, being featured on The Situation Room on CNN, MSNBC, Inside Edition, and Fox News.
One of Dennis' other, recent trailer spoofs, 'Star Trek: Bed, Bath & Beyond', caught the attention of Simon Pegg on Twitter:  http://ew.com/article/2016/07/17/star-trek-jaylah-bed-bath-beyond-parody/  
Dennis Hurley's television and film credits include: NBC's Superstore, The Daily Show, Tosh.0, True Nightmares and Unusual Suspects.  Dennis also appeared as a dancer / grocery store clerk in Justin Timberlake's Oscar nominated song, 'Can't Stop The Feeling'.
Currently, Dennis is acting and performing stand up / sketch comedy in Los Angeles.
Dennis is represented by Jason Hough of Callisto Management, www.callistoentertainment.com
PALEWATCH
#palewatch #baywatchmovie
WATCH NOW!!
YouTube​   ​https://www.youtube.com/watch?v=wd5z66AYC_A&t=13s  
FunnyorDie
https://www.funnyordie.com/account/dendo/media/512807  
Source: Dennis Hurley
Share:
---
Categories: Movies, Diversity, Comedy
Tags: Albino, Baywatch, Disability, Parody, Spoof, Trailer
---