New Assessment Designed for HR Professionals and Consultants to Improve Curiosity, Engagement, Innovation and Productivity
Press Release
•
updated: Oct 14, 2018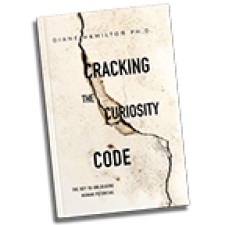 PHOENIX, October 11, 2018 (Newswire.com) - ​Researcher, author and nationally syndicated radio show host Dr. Diane Hamilton has developed a new assessment to determine the things that impact curiosity, titled the Curiosity Code Index (CCI). Praised by CEOs as "the ultimate assessment to help individuals and organizations improve engagement, innovation and productivity."
The CCI is the first assessment of its kind. After years of research and through interviewing top business thought leaders, Dr. Hamilton has designed this assessment to go along with her book Cracking the Curiosity Code: The Secret to Unlocking Human Potential. Hamilton's research found the key to improving many of the factors associated with productivity, began with improving curiosity. The book and CCI explore the four factors that can inhibit curiosity including Fear, Assumptions, Technology and Environment (FATE) and provide a plan for how to improve in these areas.
I am neither especially clever nor especially gifted … I am only very, very curious.

Albert Einstein
Fear – To better understand how fear impacts curiosity, it is critical to learn how to address issues like how to deal with the perception of failure, embarrassment and loss of control. There could be specific issues like competition, pressure, rejection and expectations.
Assumptions – Sometimes undetectable factors can inhibit willingness to explore or be curious. From the issues or topics disliked as a child, to the areas believed to be already sufficiently explored, the key is to discover the subtlety and the significance of those assumptions that curtailed or blocked curiosity.
Technology – Siri or Alexa can answer so much that no exploration takes place or on the other extreme, many are overwhelmed by the onslaught of technology. Many individuals can be resistant to the inevitable changes that accompany new technologies.
Environment – This includes the degree to which parents, college professors or all other influential people can impact, and potentially inhibit, curiosity. It may be culture or even a boss.
Hamilton has used her experience as a certified emotional intelligence instructor, to create a program unlike any other. The book and assessment will be available to everyone. Additionally, a CCI certification training program will be available to HR professionals and leadership consultants to provide them with the ability to administer the assessment, interpret the results and provide an Innovation Plan (I-Plan) workshop designed to improve chosen metrics including:
Increased engagement
Increased innovation
Increase in revenue or margin
Reduction in costs
Increase in product or service creation
Increase in market share
Increased productivity
For more information about the CCI and Cracking the Curiosity Code book, please go to http://curiositycode.com.
About Dr. Diane Hamilton:
Dr. Diane Hamilton is an award-winning speaker, nationally syndicated radio host, consultant, author and educator. She has a Ph.D. in business management and is a certified Emotional Intelligence EQ-i instructor. Top companies, including Forbes, have hired her to speak to groups to improve employee relationships, increase engagement, improve productivity and reduce conflict. Her Take the Lead Radio show showcases successful individuals including C-Suite Executives, Time Magazine's Most Influential People of the World, Forbes 30 Under 30 Inductees, Nobel Peace Prize Nominees, New York Times and Wall Street Journal Best-Selling Authors, and other successful individuals who share their stories. She is the author of Cracking the Curiosity Code: The Key to Unlock Human Potential and It's Not You, It's Your Personality: Skills to Survive and Thrive in the Modern Workplace. Follow her on LinkedIn, Facebook and Twitter @DrDianeHamilton.
Source: Dr. Diane Hamilton
Related Media
Tags