New App TimeSpring is Bringing Families Together in Unprecedented Ways
TimeSpring, a new future messaging app is changing how families share stories and save memories for the holidays.
Press Release
-
updated: Nov 26, 2018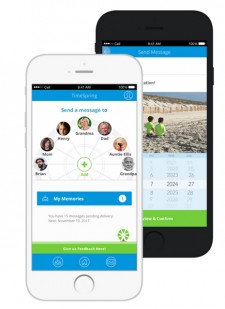 RAMSEY, N.J., November 20, 2018 (Newswire.com) - TimeSpring, a future message app is bringing families together in the most surprising ways. Even Grandma and Grandpa are getting onboard with this latest trend in photo-sharing. It works like other photo sharing apps, but with a twist: Users can write, and schedule messages and images to be delivered to someone years into the future. When a child is mature enough to grasp concepts and appreciate memories, they will have stored messages that will be unlocked at special milestones in their life.
This season, instead of just capturing these moments and sharing on social media, parents and grandparents can share their holiday memories by sending photos and video directly to their children and schedule them to be delivered in five, ten, or twenty years into the future. It is an elegant solution to the masses of photos that parents accumulated on their phones. 
Felice Bernard, founder of TimeSpring and a mom of three, was faced with the questions that most parents in this modern age face: What do you do with all those digital images, and will children ever get to hear the stories behind them? So she created TimeSpring to save those special moments and to create a way for her kids to experience them too.
Bernard says, "It's challenging to save special photos and video in a meaningful way which is why TimeSpring is needed. Why not send a memory forward and ensure that it is saved for the next generation. I mean, we all have those uneasy thoughts when we get on an airplane from time to time, and it's comforting to know that my kids will have messages waiting for them."
This holiday season, as commercials and advertisements brand their technology to be the hearth of a family, sometimes, technology does bring people closer together and even bridge the gaps between generations and time.
For more information on TimeSpring, check out https://timespring.com.
Media Contact:
Felice Bernard
felice@timespring.com
201-707-0177
Source: TimeSpring
Share:
---
Categories: Multi-Media, Parenting, Family
Tags: Family, Holidays, Mobile Apps, Parenting, Parenting apps, Technology
---