Nevada Born Author Gives Back to the Community That Helped Her Attend College
Press Release
•
updated: May 4, 2020
Author Teri Case awards Carson High students with the Tiger Drive Scholarship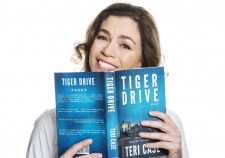 CARSON CITY, Nev., May 4, 2020 (Newswire.com) - Carson High students Mackenzie Wilson and Gabriela Fernandez have won the 2020 Tiger Drive Scholarship.
Six years ago, Nevada born author Teri Case (Tiger Drive, 2018, etc.) established the scholarship to pay back the many people in Carson City, Nevada, who mentored her and helped her change her life by attending college in 1989.
Case said, "The purpose of the scholarship is to recognize students who are reaching, learning, and growing beyond their familiar environment by attending a college, university, or trade school. This year, we received numerous excellent applications, and I wish each of them could be equally recognized."
Case's novels help fund the scholarship. Her debut novel Tiger Drive, named after the street she grew up on in Northern Nevada, has won multiple awards, and the book addresses how poverty is as much psychological as it is economical. Tiger Drive portrays a poor family striving for change while facing generations of family secrets and bad habits. In the Doghouse (April 2019) is Case's second novel. It has won the National Indie Excellence Award and Readers' Favorite Award. Case's third novel is forthcoming. To contact Teri Case or learn more about her books, visit her website at https://www.tericase.com.
Source: BZCE PUBLISHING, LLC
Tags
Additional Links