NetHunt Ranks as a Top CRM in G2 Crowd Spring 2018 Grid Report
Alongside with being recognized as one of the best CRMs, NetHunt was also featured in ten G2 Crowd indexes.
Press Release
-
updated: Apr 5, 2018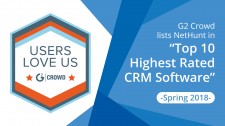 KYIV, Ukraine, April 5, 2018 (Newswire.com) - NetHunt, a powerful CRM for Gmail, announced that it has been acknowledged as a High Performer in the 2018 Spring Grid Report for Best CRM Software by G2 Crowd. This title is based on the numerous favorable reviews on the G2 Crowd platform. 
Among various CRM systems represented on the site, NetHunt is named a High Performer and holds one of the highest scores: 4.7 out of 5. High Performers are those products that receive exceptionally favorable reviews from their users and are on their way to achieving significant market share and scale.
Also, based on real-users reviews, NetHunt was included in ten G2 Crowd indexes:
Implementation Index for CRM
Results Index for CRM
Small-Business Results Index for CRM
Small-Business Grid® Report for CRM
Grid® Report for CRM
Usability Index for CRM
Small-Business Usability Index for CRM
Small-Business Implementation Index for CRM
Relationship Index for CRM
Small-Business Relationship Index for CRM
G2 Crowd Users about NetHunt
The company is thankful for the positive feedback from users and is proud to feature some of them:
Simple, and easy to use is the best way of describing NetHunt! With all features included in one package at affordable prices, NetHunt is the best CRM we have used. The best part is that it integrates right in with Gmail. Never been happier with a CRM.
Julian Silva - Promoe (Promotion Network )
The flexibility it offers, ease of creating saved views (filtered, groped etc) and links between sales pipeline and contacts. All this at a great price too compared to Streak. It is a real pleasure to configure and use.
Keith Dale - Kisska (Design Agency)
It's a simple system that works great with Gmail. We've been previously using Google Sheets and Excel for our client database and NetHunt is definitely a great upgrade.
Ernestas Adomaitis - Real Game (Real Estate Consulting) 
NetHunt expresses its deep gratitude to all the customers for helping bring the company's vision to life. Also, the company declares its commitment to work twice as hard to ensure its CRM users receive the best experience with the product.
NetHunt pursues the mission to allow business professionals to manage their customer relations effortlessly and focus on what they are best at - running the business. By using this Gmail integrated CRM, it's now achievable.
"Google products have become reliable tools for modern entrepreneurs. Still, we saw that people really needed a straightforward and efficient CRM for Gmail. So we created one that lets users manage a business inside their inbox. The approval and support we received from the community prove that helping entrepreneurs is the right mission."
Andrei Petrik, CEO & Co-Founder at NetHunt
About NetHunt
Founded in 2015 and headquartered in Kyiv, Ukraine, NetHunt is a software company that offers a smart CRM (Customer Relationship Management) system for Gmail and Google Apps. The system provides a high level of customizability for a wide range of industries and business activities, features an automated CRM records management system with sales and email marketing capabilities. For more information about NetHunt CRM, visit https://nethunt.com.
About G2 Crowd
G2 Crowd is the world's leading business solution review platform with high credibility. Their scoring methodology, Grid, takes into account more than 381,000 user reviews to rank products. Customer satisfaction, market, web, and social presence are the key factors that determine a product's rating.
To see the workflow inside NetHunt as well as all the features of this highly customizable CRM for Gmail, schedule a demo and our team members we'll be happy to introduce you to the system and answer all your questions.
Source: NetHunt CRM
---
Categories: Customer Relationship Management (CRM)
Tags: CRM, G2 Crowd, gmail, gmail crm, NetHunt, rating, report, sales, top crm, top list
---