Nelson-Jameson Foundation Announces UW-River Falls Scholarship Winners
Press Release
•
Jun 29, 2023
College students Makenzie Skibbie and Danielle Stroinski named Nelson-Jameson Scholars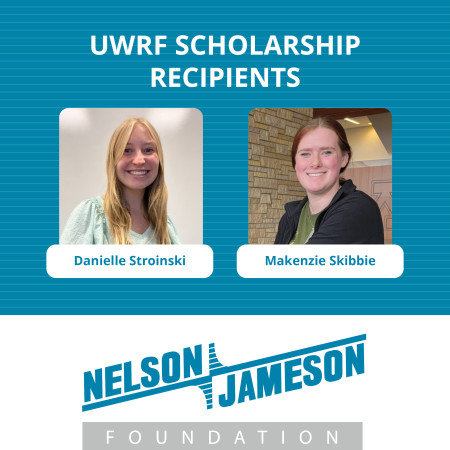 MARSHFIELD, Wis., June 29, 2023 (Newswire.com) - The Nelson-Jameson Foundation, a nonprofit organization with a mission to cultivate prosperity for Nelson-Jameson employees, local communities, and the dairy industry through a diverse range of philanthropic programs, announced the winners of its inaugural University of Wisconsin-River Falls college scholarship program. Two students, Makenzie Skibbie and Danielle Stroinski, achieved the honor of being named a Nelson-Jameson Scholar, and each received a $5,000 award toward college expenses. The scholarship was founded by the Nelson-Jameson Foundation to support the next generation of dairy industry and food science employees.
"We are delighted to congratulate Makenzie and Danielle for their well-deserved Nelson-Jameson Scholar program scholarships," says Amanda Sasse, fourth-generation owner of Nelson-Jameson. "As an organization, Nelson-Jameson has been a devoted steward of the dairy industry for more than 75 years, and we're committed to continuing this legacy by providing opportunities for future generations of talent through the Nelson-Jameson Foundation."
To be eligible for the scholarship, students must be enrolled at UW-River Falls, be majoring in Food Science & Technology, and have a grade point average of 3.0 or higher. Makenzie Skibbie will begin her junior year in the fall of 2023 and is passionate about the cheese industry. Danielle is a senior working toward a 2024 graduation and plans to pursue a career in dairy food research & development. The scholarship program will continue annually, with the Nelson-Jameson Foundation awarding two $5,000 scholarships each academic year.
In addition to the scholarship program, the Nelson-Jameson Foundation has committed a total of $150,000 toward the University of Wisconsin-River Falls Dairy Pilot Plant Renovation project and secured naming rights for the Pilot Plant's laboratory. Nelson-Jameson will also join the plant's Advisory Committee.
"We're thrilled to further expand our partnership with UW-River Falls, and look forward to being part of the important work that will be conducted in the plant by the industry, students, and faculty," says Sasse.
Both the scholarship program and dairy plant grant were initiated and approved by the Nelson-Jameson Foundation. The Nelson-Jameson Foundation is focused on supporting philanthropic organizations that enhance its core value as a Golden Rule Company. Grants are targeted toward charitable programs related to the food and dairy industries or support charities important to Nelson-Jameson employees and the communities in which they reside.
About Nelson-Jameson
Nelson-Jameson is a fourth-generation, family-owned distributor to the food and beverage industry. From the company's roots in dairy production supplies, it grew to offer a broad range of food processing equipment and services that provide customers with everything they need to manufacture safe, high-quality products. Representing over 850 vendors and distributing over 60,000 products, Nelson-Jameson offers everything from standard equipment to custom production solutions and equipment repair. The company employs more than 260 people in five distribution centers across the United States and at its headquarters in the heart of dairy country in Marshfield, Wisconsin. The dairy industry leader also operates NEXT Logistics, offering delivery services from Wisconsin, California, Idaho, Pennsylvania, and Texas distribution centers.
For more than 75 years, Nelson-Jameson has supported food and dairy processors with products and solutions that keep pace with changing consumer tastes, manufacturing processes, and distribution channels. The company continues to be the supplier of choice for customers in all 50 states and international markets. For more information, please visit: https://nelsonjameson.com
Source: Nelson-Jameson Foundation