Nelson-Jameson Announces Commercial Team Expansion as Part of National Growth Strategy
Press Release
•
Aug 3, 2023
Dakonya Freis, Jason Huff, and Chris York Selected for Top Leadership Roles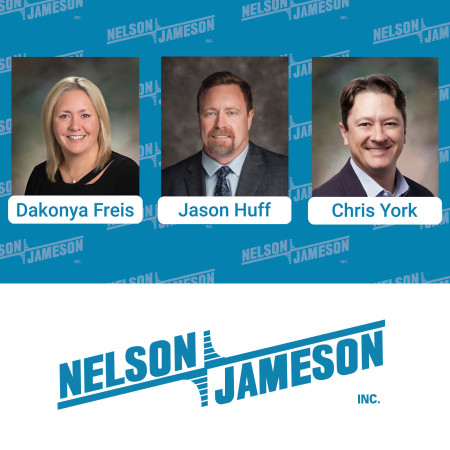 MARSHFIELD, Wis., August 3, 2023 (Newswire.com) - Nelson-Jameson, a leading distributor in the dairy and food processing industry, is continuing expansion of its Commercial Development Department with three development and sales-focused leaders. The company has strengthened its managerial structure across all departments this year, and the commercial team expansion aligns with the firm's growing customer footprint across the country. Because Nelson-Jameson provides ongoing relationship management beyond the point of sale, it sought commercial leaders who excel in both growth-focused development and customer care.
"The Commercial Development Department is key to the strategic growth of Nelson-Jameson, and the collective expertise that Dakonya Freis, Jason Huff, and Chris York bring to the table is unmatched," says Nelson-Jameson President Mike Rindy. "What's more, they all embody the Golden Rule values that Nelson-Jameson is known for, ensuring that we maintain the integrity of our 75-year-old company culture as we grow."
The new managers will lead commercial development and expansion in their respective areas:
Dakonya Freis — Vice President of Commercial Development
Freis brings over two decades of experience at Nelson-Jameson to her position as Vice President of Commercial Development, including five years as Vice President of Product Management & Marketing where she had identified process improvements and had overseen the product management and marketing departments. In her new role, she is responsible for developing new avenues of commercial growth, streamlining business processes, and collaborating with customers and suppliers to bring value-added solutions to the food and beverage industry.
Jason Huff — Commercial Executive Director - West
Huff leads the relationship management across Nelson-Jameson's Western United States territory as Commercial Executive Director - West. Based out of Nelson-Jameson's newest distribution center in Jerome, Idaho, opening later this year, Huff will develop regional sales targets and support company-wide key sales execution. He will also coach and mentor sales, technical, and commercial teams to reach determined goals. Huff has an in-depth understanding of the supplier ecosystem and knowledge of how to build deep-rooted strategic customer partnerships from experience in past roles spanning 25 years in cheese/whey production, dairy processing, and corporate food safety & sanitation.
Chris York — Commercial Executive Director - East
As Commercial Executive Director - East, York is the face of Nelson-Jameson across the Eastern United States territory. He develops and fosters high-value relationships with customers and acts as a liaison between customers and internal teams. York also partners with leadership to execute the strategic sales plan for the East region. Prior to Nelson-Jameson, he spent nearly two decades in regional sales management roles at 3M, cultivating deep food industry expertise and channel management experience.
Nelson-Jameson promotes its designation as a golden-rule company, and is focused on maintaining a culture of honesty, integrity, and kindness, and a commitment to operating in an ethical manner with respect for people, the community, and the environment. The new Commercial Development team is part of the company's effort to grow as an organization while providing a best-in-class customer experience nationwide.
About Nelson-Jameson
Nelson-Jameson is a fourth-generation, family-owned distributor to the food and beverage industry. From the company's roots in dairy production supplies, it grew to offer a broad range of food processing equipment and services that provide customers with everything they need to manufacture safe, high-quality products. Representing over 850 vendors and distributing over 60,000 products, Nelson-Jameson offers everything from standard equipment to custom production solutions and equipment repair. The company employs more than 260 people in five distribution centers across the United States and at its headquarters in the heart of dairy country in Marshfield, Wisconsin. The dairy industry leader also operates NEXT Logistics, offering delivery services from Wisconsin, California, Idaho, Pennsylvania, and Texas distribution centers.
For more than 75 years, Nelson-Jameson has supported food and dairy processors with products and solutions that keep pace with changing consumer tastes, manufacturing processes, and distribution channels. The company continues to be the supplier of choice for customers in all 50 states and international markets. More information on the company can be found at https://nelsonjameson.com.
Source: Nelson-Jameson