Need an Escape to Paradise? Artist and Veterinarian Mariam Kamal Has the Answer
Get ready to be wowed by the vibrant colors, textures, and details in the "Escape to Paradise" art collection by Mariam Kamal
Press Release
-
updated: Jul 10, 2018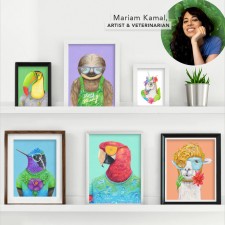 NEW YORK, July 10, 2018 (Newswire.com) - Artist and veterinarian Mariam Kamal of Grinvites is releasing the brand new "Escape to Paradise Collection," a stunning array of fine art prints and top quality t-shirts. The collection will be released on July 15, 2018.
Grinvites is known for bringing unique and uplifting art to "bold and colorful" animal lovers everywhere. The art is also eco-friendly, and a percentage of each sale is donated to charity. This upcoming collection will be the first time Grinvites offers long-awaited apparel. It is also the first time prints will be available for shipping—previously, prints were either downloadable or available for purchase in person only.
As always, the art celebrates a feeling of individuality and integrity. Mariam's own sense of individuality recently brought her to Central America, which inspired the Escape to Paradise Collection. "My inner self was bursting to live in a tropical paradise," Mariam explains. "I was true to myself—I decided to spend five months immersed in the beautiful landscapes of Costa Rica."
"I explored rainforests, swamps, rivers, mountains, beaches, and beyond. The country is just magical," she continues. "I saw over a hundred species of birds and even sloths and monkeys. Inspiration was everywhere! My imagination went wild, and this collection is the result. I've never been prouder of my art. That little voice inside was right! That is the point of this collection: Listen to that little voice."
Each piece in the collection effortlessly nestles into your heart. From a reflective unicorn swathed in tropical flowers to an enchanting and colorful sloth, Mariam's new drawings vibrate with personality, charm, and talent. The attention to detail in each portrait is the most exciting part—for example, the fluffiness of the macaw's feathers and the cascade of curls in the llama's hipster hair. There is even a hummingbird with individually drawn purple and green feathers.
Mariam takes customer service very seriously, which is why she did meticulous research before offering physical prints and apparel. "All prints are being done by Brooklyn Archival, a small boutique printing service in Brooklyn," Mariam shares. "I searched very carefully for an expert in fine art reproduction. Rob MacInnis of Brooklyn Archival is just that! This is a printing service that will give my customers the best fine art prints available."
"The t-shirts were more difficult... That took a lot of thought, brainstorming and work. But I finally found the perfect t-shirt company—one that is both ethical and eco-friendly," Mariam explains, glowing with excitement. The t-shirt brand is called Bella + Canvas, a U.S.-based company with a 100% "no sweatshop" guarantee. All t-shirts are produced in the U.S. The company is also committed to green production— the fabrics are cut and sewn with solar power.
The art is carefully printed on each t-shirt in spectacular quality and detail. "My followers are beside themselves about these t-shirts! The prints are mind-blowing," Mariam says proudly. "I have worn samples in both NYC and Costa Rica, and I get compliments everywhere. Everyone who sees them raves about the print quality of the art. I could not be happier to bring my customers such a quality product."
With names like "The Rainforest Guardian," "The Unexpected Dynamo" and "The Tropical Romeo," Mariam's dazzling new portraits will bring flair and originality to any home or wardrobe. The Escape to Paradise Collection art prints are available in three convenient sizes ranging in price from just $29.95 to $139.95; a spectacular limited edition poster is available for $249.95. A limited quantity of t-shirts will be available at only $49.95 each.
Mariam is excited to give her followers just what they've been asking for...in this case, a ticket to paradise.
Contact info 
For more information about Grinvites or for an interview with Mariam Kamal, please write to mar@grinvites.org. High-resolution media photos available upon request.
About Grinvites
Mariam Kamal is an artist and veterinarian. She has been drawing fun and quirky animals for family and friends for years and decided to start Grinvites to bring her lively and vibrant drawings to the public. The company is eco-friendly, and a percentage of proceeds from each sale goes to charity. The Escape to Paradise Collection will be sold exclusively at www.grinvites.shop.
Website: www.grinvites.shop
Instagram:  www.instagram.com/grinvites
Facebook:  www.facebook.com/grinning247
Source: Grinvites
Share:
---
Categories: Artists
Tags: animal, cheerful, colorful, eco-friendly, gift, happy, home decor, playroom, sloth, tropical, unicorn, wildlife
---