NEA Art Works Grant of $15,000 Awarded to the American Youth Symphony for a Free Concert to Champion Human Rights World-Wide
Press Release
-
updated: Jun 30, 2017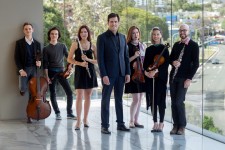 Los Angeles, CA, June 30, 2017 (Newswire.com) - National Endowment for the Arts Chairman Jane Chu has approved more than $82 million to fund local arts projects across the country in the NEA's second major funding announcement for fiscal year 2017. Included in this announcement is an Art Works award of $15,000 to the American Youth Symphony, in support of "Freedom: A Celebration of Human Rights", a concert to be presented in the 2017/18 season, co-presented with The Los Angeles Committee of Human Rights Watch. The project promotes the protection of worldwide human rights through a free concert celebrating the role music has and continues to serve in strengthening the human spirit in the face of adversity. 
"The arts reflect the vision, energy, and talent of America's artists and arts organizations," said NEA Chairman Jane Chu. "The National Endowment for the Arts is proud to support organizations such as the American Youth Symphony in serving their communities by providing excellent and accessible arts experiences."  
"We appreciate the NEA's confidence in funding this timely collaboration with Human Rights Watch. This project will be an innovative gift to both orchestra and audience" - Kevin Dretzka, Chairman of the Board of Directors.
"Freedom: A Celebration of Human Rights" is the brainchild of AYS Music Director, Carlos Izcaray, who was himself a victim of torture at the hands of Venezuela's National Guard in 2004. This pivotal experience led him to become a champion of human rights, as well as a firm believer in music as a vehicle to voice a message of freedom and justice for all mankind.
"I'm very grateful to the NEA for providing AYS the opportunity to put together a program that highlights music as an art form with the power to express the complex array of sentiments tied to the subject of Human Rights. Over several generations, many composers and musical performers have created works that voice a message of freedom and justice for all humanity, and we look forward to featuring several of these works in partnership with Human Rights Watch." – Carlos Izcaray
"We could not be more grateful and excited to participate in this project with AYS," said Justin Connolly, Director of Human Rights Watch's Los Angeles Committee.  "Even in times of deep division, music always brings people of all stripes together.  We relish this chance to reflect with others in a joyful way on the basic human values we all share."   
The project will present a multimedia experience featuring symphonic music – including a world premiere composed by Maestro Izcaray himself in response to his personal experiences  – and projected images and live testimonials from Human Rights Watch. The concert will be preceded by Q&A with music historians and human rights advocates discussing the topic of music as a tool for social change.
"The American Youth Symphony is honored to be in partnership with the National Endowment for the Arts for the second year in a row. The concert will bring beauty to our community while highlighting important issues facing our world. We are very grateful to NEA for supporting us in this mission, and can't wait to share Maestro Izcaray's world premiere composition with our audience." - Varina Bleil, Executive Director 
The American Youth Symphony's mission is to inspire the future of classical music. The orchestra is comprised of a diverse group of over 100 exceptionally talented musicians, in high school through doctoral music programs. Each member receives invaluable training as well as generous financial support and unique opportunities to perform in front of large, enthusiastic audiences. Since its founding in 1962, the majority of the symphony's concerts have been given free to the public, as part of the organization's commitment to creating access and opportunity for everyone to experience the beauty of orchestral music.
To join the Twitter conversation about this announcement, please use #NEASpring17. For more information on projects included in the NEA grant announcement, go to arts.gov
Source: American Youth Symphony
Share:
---
Categories: Music, Human Rights, Arts and Entertainment
Tags: Classical Music, Human Rights, Human Rights Watch, Music Education, National Endowment for the Arts, NEA, Orchestra, Symphony
---