Nationwide Power Names the Eaton 93PM the Most Versatile UPS of 2019
With hundreds of UPS equipment options on the market, ranging from manufacturer, model, kVA size and more, Nationwide Power names the Eaton 93PM the most versatile UPS of 2019.
Press Release
-
updated: Apr 2, 2019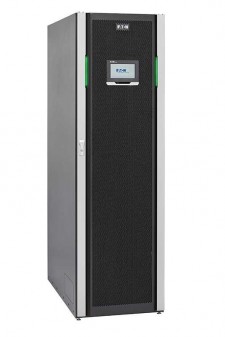 ST. LOUIS, April 2, 2019 (Newswire.com) - Last month during Nationwide Power's annual Power Summit, the Eaton 93PM was named the most versatile UPS of 2019. With hundreds of UPS equipment options on the market, ranging from manufacturer, model, kVA size and more, there was a lot of competition for this award.
"At Nationwide Power, we sell millions of dollars' worth of UPS equipment each year, from all major manufacturers, starting as small as 2kVA and selling over 500kVA. We have selected the Eaton 93PM as the most versatile UPS model of the year due to its scalability, reliability and price point," Ryan Murphy, national sales manager, states.  
As a commercial Eaton Certified Power Specialist, the top tier of their partner program, the Equipment Sales team at Nationwide Power is familiar with the full Eaton UPS product line. Nationwide Power sat down with Kelly Mehta, 93PM product manager, and asked her some questions about the 93PM: 
Nationwide Power: Kelly, with so much talk surrounding the reduction of energy costs, how is the 93PM UPS positioned in the market compared to others?
Kelly Mehta: We specifically designed the 93PM to provide high-efficiency operation in double conversion with an optional ESS mode available. 
NP: Can you elaborate on what sets Eaton's ESS mode apart? 
Kelly: Eaton has offered the Energy Saver System (ESS) since 2009 and with over 10 years of proven experience with this technology, we have tens of millions of hours operating in ESS mode in the market. Collectively, the systems in the field have saved over 300GWh of energy. Additionally, the same reliable software monitoring and controlling the system in double conversion is used to support ESS mode, allowing the UPS to intelligently respond to power anomalies by engaging power modules in less than two milliseconds.
NP: You mentioned earlier that the 93PM is a pay-as-you-grow configuration. Can you tell us more about this?
Kelly: The 93PM was designed with a scalable platform. As your need to increase kVA grows, we can reconfigure the UPS to greater kVA sizes provided you planned for this at the time of purchase. I know Nationwide Power does a great job educating their customers by some of the orders I have seen. This design also provides for options for internal redundancy for added protection. 
NP: There is also demand to reduce cooling and footprint requirements.  How was this considered in the design of the 93PM? 
Kelly: We designed the 93PM to be high in power density while at the same time taking up less space, thanks to its small footprint. Additionally, the high efficiency contributes to energy savings and reduces cooling requirements.
NP: We were excited to see the 208V model released. How is this being received? 
Kelly: The 208V model has taken off and there is a lot of demand for it. As with most Eaton products, the available accessories and options help accommodate for a flexible and easily deployed system. As the 9390 model winds down to end-of-life (EOL), the 93PM will be the new workhorse for the foreseeable future. 
Nationwide Power has been partnering with Eaton since 2001 and is the leading independent provider in the critical power industry. Its core business is focused on the sales and service of UPS equipment, batteries and service, along with supporting other critical power components such as emergency generators, switch gear and HVAC. For more information, visit www.nationwidepower.com.
Source: Nationwide Power Solutions Inc.
Share:
---
Categories: Facilities Maintenance & Management
Tags: Critical Power, Eaton, Eaton 93PM, Eaton UPS, Facilities Management, Nationwide Power, Uninterruptible Power Supply, UPS Equipment
---