Nation's Top Personal Trainers Competing for Unique Honor From Greatmats
Miss America's leads field in final days of social media vote to determine finalists for National Personal Trainer of the Year
Press Release
-
updated: Nov 27, 2017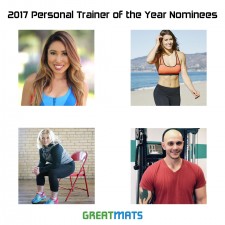 MILLTOWN, Wis., November 27, 2017 (Newswire.com) - A high profile field of personal trainers have found themselves in a new position as they are the ones getting cheered on by their adoring fans. This group of trainers, which include TV personalities, social media influencers, beauty pageant trainers, and even senior citizen motivators have been nominated by their peers, fans and community members for the 2017 National Personal Trainer of the Year Award in honor of them making a positive impact in their respective communities. The award, presented by Greatmats is part of Greatmats' 3rd Annual National Award Series — designed to recognize trainers and instructors who best represent the virtues of Service, Integrity and Quality.
Supporters of these seven personal trainers and their efforts are taking part in a social media vote on Greatmats' Facebook page which runs from Nov. 16-30 to determine the two finalists for the award. Greatmats will choose the finalist that it feels best represents those three qualities to be named National Personal Trainer of the Year. The winner will receive his/her choice of gym flooring or a cash option, courtesy of Greatmats.
This year's nominees represent five states. The nominees are:
California
Cassey Ho of Pop Pilates and Blogilates fame, and Jen Widerstrom — best known for her work on the hit reality show The Biggest Loser
Nebraska
Shannon Olberding of Corkeldings Fitness in Atkinson
New York
Steve Tanen of Transformation Fitness Studio in Staten Island
North Dakota
April Lund of Gold's Gym, and Miss America trainer Thea Jorgensen, both working out Bismark
Texas
Senior citizen trainer Ted Hart of Frisco Lakes in Frisco
Learn more about the 2017 National Personal Trainer of the Year Award and how to vote for your favorite trainer at https://www.greatmats.com/gym-floors/greatmats-national-personal-trainer-of-the-year-award.php.
As part of the National Award Series, Greatmats is also presenting awards to Martial Arts Instructors, Cheerleading Coaches, Dog Trainers, Horse Trainers and Dance Instructors. Learn more about the National Award Series at https://www.greatmats.com/greatmats-national-instructor-of-the-year-awards-series.php.
Source: Greatmats
Share:
---
Categories: Sports, Fitness, and Recreation, Active and Healthy Living, Exercise and Physical Fitness
Tags: April Lund, Blogilates, Cassey Ho, Gold's Gym, Jen Widerstrom, Miss America, Pop Pilates, Shannon Olberding, The Biggest Loser, Thea Jorgensen
---