National Presidents Day Contest Winner Announced by LearningRx
Press Release
•
updated: Feb 19, 2018
13-year-old boy wows judges with guitar skills and singing after finishing brain training at LearningRx in Chattanooga, Tennessee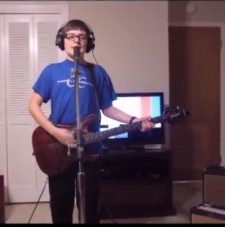 COLORADO SPRINGS, Colo., February 19, 2018 (Newswire.com) - LearningRx, the world's largest personal brain training company, has announced the winner of its 2018 National Presidents Day Contest.
Ben Daugherty, a 13-year-old who went through a LearningRx one-on-one brain training program at the LearningRx Chattanooga East center, impressed the judges by playing the electric guitar and singing all 45 presidents in order. Ben's talent and creative recital of the presidents helped him surpass students' entries from across the country.
We're incredibly proud of Ben for winning our nationwide contest.

Michelle Hecker Davis, LearningRx Chattanooga Director
LearningRx's annual Presidents Day Contest is designed to encourage kids across the country to create videos that demonstrate the memory and focus skills they improved with LearningRx brain training.
"This is one of the first things we have students master in our personal brain training programs," explains LearningRx Chattanooga Director Michelle Hecker Davis. "It quickly strengthens long-term memory, attention and other cognitive skills, while significantly boosting the student's confidence. We're incredibly proud of Ben for winning our nationwide contest!"
To watch Ben's winning video: https://youtu.be/xUmt1Qg62JM
Please feel free to link to this video or broadcast it for an inspirational story this Presidents Day, Feb. 19. You can also check out our two other finalists.
Link to Dylann: https://youtu.be/vtW-fLdPja4
Link to Parshan: https://youtu.be/nffJSCxe9q0
About LearningRx
LearningRx, headquartered in Colorado Springs, Colorado, is the largest one-on-one brain training organization in the world. With 80 centers in the U.S. and locations in over 40 countries around the globe, LearningRx has helped more than 100,000 individuals and families sharpen their cognitive skills to help them think faster, learn easier, and perform better. Their on-site programs partner every client with a personal brain trainer to keep clients engaged, accountable, and on-task - a key advantage over online-only brain exercises. Their pioneering methods have been used in clinical settings for over 35 years and have been verified as beneficial in peer-reviewed research papers and journals. To learn more about LearningRx research results, programs, and their 9.6 out of 10 client satisfaction rating, visit http://www.learningrx.com/.
Source: LearningRx
Related Media
Tags