National Automotive Supplier Providing Child Care Benefits to Keep Up With Supply Chain Demand
Press Release
•
Feb 7, 2023
TOOTRiS Child Care On-Demand and TOYOTA BOSHOKU AKI USA, LLC partner as the automotive supplier continues to grow and add employees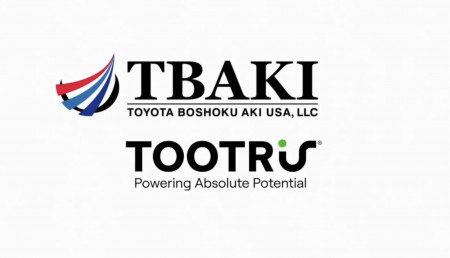 SAN DIEGO, February 7, 2023 (Newswire.com) - TOOTRiS Child Care On-Demand announces a new partnership to provide Child Care benefits to employees of TOYOTA BOSHOKU AKI USA, LLC (TBAKI), one of the world's premium automotive interior systems suppliers.
TBAKI is continually improving culture and seeking to add new talent as production demand has increased. By partnering with TOOTRiS, the nation's largest, most comprehensive Child Care network, TBAKI's working parents will be able to quickly search and vet nearly 200,000 providers in a unified platform to find care that fits their specific needs, including options for standard and non-standard hours, drop-in care, after-school programs, specialized education, extracurriculars, and more. The innovative application is also the only one in the nation to offer real-time access to Child Care enrollments, saving parents a lot of frustration, costs, and endless wait time from having to be on futile waitlists.
"We discovered TOOTRiS through Mazda Toyota Manufacturing," said Jordan Gygi, TBAKI Administration General Manager. "As a key supplier of theirs, we have tracked how valuable the Child Care benefit has been to their employees and wanted to ensure the same success for our team. The benefit also aligns with our culture of 'Smile, Collaborate, and Innovate' to support working parents and contribute to the community."
Car makers were among the hardest hit by disruptions in supplies over the last three years. While many manufacturers have taken action to reduce supply vulnerabilities, 73% of companies said their current supply chains are not fully protected. That includes challenges in hiring. Manufacturers continue to face high workforce shortages which could lead to 2.1 million potentially unfilled jobs by 2030, according to a study by The Manufacturing Institute and Deloitte.
"TBAKI truly understands how everything is connected. If one part doesn't work — such as parents not finding Child Care — it affects everyone else in the chain," said Alessandra Lezama, TOOTRiS CEO and select member of the ReadyNation CEO Task Force on Early Childhood. "Through our partnership, TBAKI can now help employees become more engaged and productive while eliminating Child Care as a barrier to growth. This is what allows parents, especially women, to return to the workforce with peace of mind."
Providing Child Care benefits is among the top initiatives to increase recruiting and DEI in the manufacturing sector. Women currently make up only 29% of the manufacturing workforce, with lack of Child Care support among their top challenges. Progressive companies like TBAKI and MTM are setting themselves apart as great places to work by caring about and supporting their employees in ways that truly make an impact on their lives.
TBAKI
TOYOTA BOSHOKU AKI USA, LLC was established in September 2019 in Athens, Alabama, as a joint venture between Toyota Boshoku America, Inc. and AKI USA, Inc. in order to supply interior components for the new Mazda Toyota Manufacturing USA, LLC plant located in nearby Huntsville, Alabama.
Toyota Boshoku, one of the world's premium interior systems suppliers and filter manufacturers, develops and produces interior, filtration, and powertrain components. With world headquarters in Kariya City, Japan, Toyota Boshoku Corporation owns Toyota Boshoku America (TBA), based in Erlanger, Kentucky. TBA and its affiliates employ over 11,000 Team Members in 18 locations throughout the United States, Canada, Mexico, Brazil, and Argentina.
AKI USA, LLC is a joint venture between Delta Kogyo Co. LTD and Toyo Seat Co. LTD, headquartered in Athens, Alabama. Both Delta Kogyo and Toyo Seat are headquartered in Hiroshima, Japan, and are leading suppliers in the automotive, transportation, and home goods markets.
TOOTRiS
TOOTRiS is reinventing the Child Care industry as the first and only technology that unites all the key stakeholders — parents, providers, employers, agencies — into a single platform, enabling them to connect and transact in real time. This empowers employers to provide fully managed Child Care Benefits, giving their workforce the flexibility and family support they need while organizations seek to increase productivity and ROI.
Source: TOOTRiS