Myeyewear2go Provides an Explanation: Brown vs Gray Transition Lenses
Press Release
•
updated: Jan 24, 2017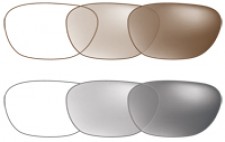 Middlesex, NJ, January 24, 2017 (Newswire.com) - ​Brown vs Gray Transition Lenses.
Myeyewear2go provides an explanation on the various transition lenses, including the brown versus gray color.
Transition lenses are gaining in popularity, as people no longer want to maintain two sets of eyeglasses. Traditionally, people have their day-to-day eyeglasses, and then another pair of glasses, which serves as prescription sunglasses.
Transition lenses come in a variety of different models, and the two primary colors that can be found are brown and gray.
Brown vs gray transition lenses hold a few differences, and it is important to know the variances in order for people to purchase properly. "We have an online chat that makes it easy for people to learn more about our products and ask questions," comments a spokesperson for the company.
Transitional gray lenses are darker than brown ones. The gray ones also do not alter colors, allowing people to see true colors, only slightly darker. Brown transitional lenses have the ability to enhance contrast as well as visual acuity in the sun. This means that they are generally ideal for spending large amounts of time outdoors, and are commonly worn while fishing, golfing, and enjoying various other outdoor sports. Further, the brown transitional lenses will add a brown hue to everything, which can take getting used to.
With the transitional lenses, they will turn clear when entering darker areas to make it easier to see. The color of the lenses, either brown or gray, will only be relevant in bright areas, particularly outdoors. This will help to provide the shade as well as protection against the UVA and UVB rays.
"I've had both brown and gray transition lenses and have never had trouble finding matching frames," comments one customer who is a fan of transition lenses.
Myeyewear2go offers a wide array of eyeglass brands for men and women. Top brands include Carrera, Gucci, Juicy Couture, Nike, Timex, and Vera Wang. Once frames have been chosen, customers will be able to go through the customization of the glasses, this includes choosing the material for the lenses. Standard plastic or polycarbonate are the most common, though some people will choose standard glass, thindex, or high index plastic. There will also be the opportunity to choose the color of the lens, which is when the transition gray or brown is chosen. The transitional lenses are a small fee upgrade, though they often end up saving costs because there is no need to purchase both eyeglasses and prescription sunglasses.
Myeyewear2go offers an array of accessories to choose from as well. This includes microfiber cleaning cloths, maintenance kits and cleaners, microfiber bags, and hard cases. These are designed to make it easier to clean the glasses and maintain them throughout the year. The checkout process is simple, and the prescription can be entered into the order form so that they are ordered appropriately.
Currently, there is a 15% off coupon available by entering coupon code SMRPT during the checkout process. This will automatically deduct the savings, which can reduce the price by $20 or more.
Myeyewear2go maintains a large inventory of eyeglasses, sunglasses, prescription sunglasses, reading glasses, sports and specialty glasses, as well as an array of accessories. They pride themselves on inventory, and have some of the top brands available on the market. A complete product description of all glasses are featured, making it easier to understand what the glasses include.
The inventory can be viewed online and transition lenses can be ordered on virtually every model. Transition lenses on eyeglasses offer versatility and offer money savings that many people do not want to pass up.
Contact: http://www.myeyewear2go.com
Source: Myeyewear2go