Mvix Launches a Device-Agnostic, Visual Communication Platform for Hybrid Workforce and Remote Audience
Press Release
•
Mar 14, 2023
Mvix's innovative communication platform, Virtual Player, empowers remote audiences & hybrid workforces with device-agnostic, visually immersive experiences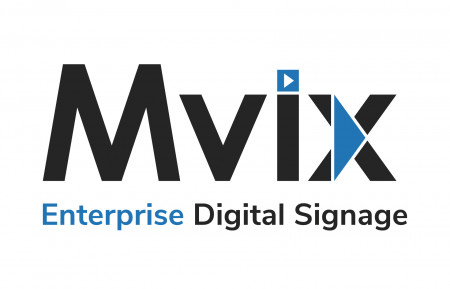 STERLING, Va., March 14, 2023 (Newswire.com) - Mvix, a leading provider of enterprise digital signage solutions, has launched an innovative visual communication feature that allows organizations to stream real-time digital signage content to a distributed audience. The service, aptly dubbed as Virtual Player, enables digital signage content to be distributed via websites, internal employee portals, simply over email, or to tablets and mobile devices. Content can be played and viewed without any hardware players or display screens with the workflows to publish content via this method being identical to the in-CMS workflow for digital signage distribution. This unique offering is primarily targeted at mid-market to enterprise clients with a distributed audience, large visitor base, or remote workforce.
A pioneer of digital signage for over 17 years with over 60,000 endpoints deployed, Mvix has led the industry with creative visual communication solutions that focus on improving client experiences. "Over the last few years, we have realized the need for informing and educating geographically-dispersed audiences. Our Virtual Player solution is a creative and affordable way to address this growing need," stated Mike Kilian, VP of Business Relations at Mvix. "This new platform allows our workplace communication clients to distribute consistent and timely information to its hybrid workforce. The solution has been designed for several important use cases in the education, government, and retail sectors."
This Virtual Player will allow businesses across verticals to augment their digital signage network and expand its reach beyond the physical space. Hosted via robust AWS services, the platform allows restricting audiences based on pre-approved, whitelisted IPs. Virtual Player functionality also allows real-time transfer of content from a digital display to a mobile device for remote viewing. Known for its enterprise digital signage solutions, Mvix aims to strengthen relationships with its clients by addressing this critical challenge.
Mvix's focus on ease of use continues with the new Virtual Player platform, which is truly plug-and-play. A new end-point can be spun up within minutes and added to client accounts via the Mvix CMS. This competitively priced digital signage platform is very likely to reduce visual communication costs for most companies, primarily by eliminating the hardware (player and screen) cost.
To learn more about this Virtual Player platform, contact a Mvix Solutions Consultant at 866-310-4923.
For more information about Mvix's digital signage solutions, visit www.mvix.com.
Source: Mvix Digital Signage