Multiple Sclerosis Foundation Participating in Variety of Events for March
MS Foundation Makes Time for Activism, Awareness and Fundraising for MS Awareness Month
Press Release
-
updated: Feb 29, 2016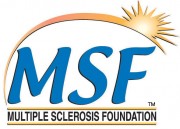 Fort Lauderdale, FL, February 29, 2016 (Newswire.com) - The Multiple Sclerosis Foundation is planning to participate in a variety of activities promoting activism, awareness and fundraising for National MS Education & Awareness Month®.
The month of March is traditionally a busy one for events in South Florida. For the multiple sclerosis community, it serves as the official awareness month and the one where the Fort Lauderdale-based Multiple Sclerosis Foundation is most active.
"For more than thirty years, the Multiple Sclerosis Foundation has been helping those affected by MS receive the treatment and benefits they need and deserve, as well as helping to educate the public about this debilitating disease," said Nathalie Sloane, Director of Corporate Relations at the Multiple Sclerosis Foundation. "We are looking forward to a highly active month and are asking for the South Florida community's support."
According to the Mayo Clinic website, multiple sclerosis is a potentially disabling disease of the brain and spinal cord whose symptoms include numbness or weakness in one or more limbs that typically occurs on one side of the body, partial or complete vision loss, usually in one eye at a time, prolonged double vision, tingling or pain in parts of the body, tremor or lack of coordination, slurred speech and more. It commonly affects those between ages 15 and 60, and in three times as many women as men.
There is no known cause, although family history and genetics seem to play a role and no cure at this time. The Multiple Sclerosis Foundation plans to raise awareness of funds for the debilitating disease with several events during National MS Education & Awareness Month®.
A charity "Shop, Support, Shine" soiree featuring refreshments and snacks is planned at the jewelry retailer Alex and Ani on March 1 from 6:00 p.m. to 8:00 p.m. 15 percent of the proceeds generated during the event will be donated to the Multiple Sclerosis Foundation.
Scout & Molly's Boutique is hosting a "Wine Down Wednesday" March 9, from 5:00 p.m. to 7:00 p.m., where a percentage of the proceeds will also benefit the MSF. The company is led by founder Lisa Kaufman, who was diagnosed with MS in 2008, but that hasn't stopped her from helping the franchise grow to more than 50 locations.
The Kendra Scott Mizner Park location will host a "Kendra Gives Back Party" March 31, from 6:00 p.m. to 9:00 p.m., where 20 percent of sales will be donated to the Multiple Sclerosis Foundation. Attendees can enjoy sips and sweets while they shop.
For more information and/or to RSVP to the events, contact Samantha Molinero at samantha@msfocus.org or call 800.225.6495, ext. 172.
About The Multiple Sclerosis Foundation
The mission of the Multiple Sclerosis Foundation is to provide nationally-accessible programs and support services to those persons affected by MS. They help patients maintain their health, safety, self-sufficiency, and personal well-being, as well as heighten public awareness of multiple sclerosis in order to elicit financial support for the MSF's programs and services, and promote understanding for those diagnosed with the illness.  
For more information, visit to www.msfocus.org or 800.225.6495. 
###
Share:
---
Categories: Healthcare, Fund Raising, Education
Tags: activism, awareness, education, fundraising, multiple sclerosis, South Florida
---