Mudavis Performing Arts Company and LetUsConnect Partner to Raise Funds for a Worthwhile Cause
Press Release
-
updated: Jun 13, 2017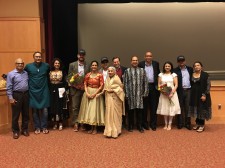 Piscataway, NJ, June 13, 2017 (Newswire.com) - The Mudavis Performing Arts Company, in conjunction with LetUsConnect, presented a special fundraising event at the Piscataway high school. Proceeds will go toward the LetUsConnect hydroponic greenhouse project, which supports the development of vocational and life skills training for individuals on the autism spectrum. Donations will also support TheSpectrumCareers.com, a one-of-a-kind employment portal connecting individuals with autism to corporations, businesses, and service providers. Developed by Rangam Consultants and championed by Autism Speaks, TheSpectrumCareers™ is designed to promote inclusive employment through advocacy, awareness, training, and support.
"The LetUsConnect project is something that I am very proud of. The idea is to empower differently-abled individuals to get a head start by learning the skills they will use to make a better future for themselves," said Nish Parikh, Advisory Board Member of LetUsConnect. "We have 19 acres of land in Princeton, New Jersey, which will be the site for the Employment Research Park. When ready, it will continue to serve the local community for years as people with special needs will always find sustainable employment at their doorstep," Nish added.
"What we are trying to do is educate the employers about how they can take advantage of some of the strengths that people with autism have to offer. Right now, globally — not just in the United States — the best estimates that we have is that 80-90% of the people with autism are unemployed or underemployed," David Kearon, Director of Adult Services at Autism Speaks, said in reference to TheSpectrumCareers™. "With years of experience running a staffing business, Nish and Hetal know how to connect employers to employees by fitting people's interests and strengths into the needs that businesses have. TheSpectrumCareers.com lets people with autism show what they are capable of. With video and photo tools, it also lets businesses create visuals to demonstrate what a job actually entails. At the moment, we have 5,000 job seekers with autism, 450 service providers nationwide joining the website, and almost 200,000 jobs posted from around the country — all thanks to the generosity of Nish, Hetal, and their technology team, who developed the portal at no cost to Autism Speaks, no cost to job seekers with autism, and no cost to businesses," he added amidst thunderous applause from the audience.
The event attracted the attention of like-minded, socially responsible individuals and companies, raising over $12,500 in funds. LetUsConnect would like to thank our generous sponsors, who included:
Companies:
Rangam Consultants Inc.
Dynamic Consulting
The ViaQuest Foundation
Indian Association of Greater Somerset County
Semple Inc.
National Consulting Group
Synergy Global Technologies Inc.
Phone Tech Inc.
South Asian Mental Health Initiative & Network
JM Technical Services Inc.
SAPC
Krish Corporation
Kashi Consulting Company
Individuals:
Deepak Raj
Eswar Sundar
Matthias Ehrhardt
Swati Datar
James Duffy
Kalpana Kumari
Dhruven Gandhi
KJ Sharma
Umang Shah
Vikas Aggarwal
Paul Price
Wendy Loonin Sklarin
Vinay Mehta
Lov K Kher
Geeta Mansukhani
Ashmi and Haresh Patel
Robin Suydam
Amit Singh
Robert Titus
Jigna Patel
Rita Yaganamurthy
Suketu Trivedi
Sneha Pandya
Subhra Chakraborty
Karan Bhagat
About LetUsConnect
LetUsConnect aims to build an environment-friendly, self-sustainable, and economically viable employment model involving individuals with autism and other special needs. With an emphasis on economic independence, it offers vocational training programs aligned with the unique skills that individuals with disabilities commonly bring to the table. For more information, please visit https://letusconnect.org.
Source: Rangam Consultants Inc.
Share:
---
Categories: Green Industries, Community News, Unemployment, Fund Raising, Autism, Vocational; Training
Tags: autism spectrum disorders, donation, Employment Research Park, Fundraising, greenhouses, hydroponic farming, LetUsConnect, Rangam, sustainable employment in NJ, vocational training
---