MuchSkills Wins Heineken HR Brewhouse Competition
Press Release
•
Jul 22, 2022
The Gothenburg-based skills management and analytics SaaS platform has bagged the opportunity to run a software pilot within a selected Heineken subsidiary.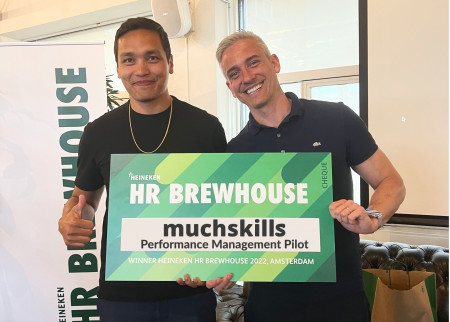 STOCKHOLM, July 22, 2022 (Newswire.com) - Skills management platform MuchSkills is pleased to announce that it has won the Heineken #HRBrewhouse competition in the Performance Management category. The win gives MuchSkills the opportunity to run a software pilot within a selected Heineken subsidiary. On a successful pilot, Heineken will conduct a regional rollout and eventually deploy the solution globally.
"We are super excited about our win as we were up against some pretty big names in the startup world from all over," said MuchSkills founder and CEO Daniel Nilsson.
The Heineken HR Brewhouse is a partnership between The Next Web and Heineken and aims to drive tech-enabled innovations within the global HR sector to find solutions to real-world HR challenges.
The 2022 competition, held in Amsterdam on July 6, was centered around two real-life challenges: Performance Management and Recruitment. Some of the most promising HR technology players from around the world participated in it, with MuchSkills beating five other finalists to bag the pilot.
"[We] can't wait to start our innovation sprint and drill down to see if your solutions [MuchSkills] can help solve our challenges," said Herman Rolfers, Director Global HR Technology & Solutions at Heineken.
Nilsson said: "We are grateful for the opportunity we had to get everyone to see skills in a new light. It was also amazing to see what everyone else in the HR tech space is also innovating with."
About MuchSkills
MuchSkills is a skills management and analytics SaaS platform founded in 2019 by Gothenburg-based design and strategy consulting firm Up Strategy Lab. The product, launched in 2020, has become the world's most innovative solution for skills management and analytics, designed to help companies clear the skills fog that exists within their organisations. MuchSkills was born after its founders realised that the world of skills management needed to enter the 21st century.
For more information, visit muchskills.com.
Press contact: Daniel Nilsson, CEO, +46707403684, daniel@muchskills.com
Source: MuchSkills