MSF Goes Above and "BeyondMS" to Raise Awareness
National MS Education & Awareness Month® hosts have big plans for March 2016
Press Release
-
Mar 1, 2016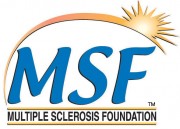 Fort Lauderdale, FL, March 1, 2016 (Newswire.com) - February 24, 2016: In its biggest awareness campaign ever, the Multiple Sclerosis Foundation is encouraging the public to see #BeyondMS in people affected by multiple sclerosis. Throughout the month, MSF is profiling twenty individuals with MS who have surpassed the limitations they encountered or expected from their disease, in keeping with the theme for the month, Beyond MS. These profiles, published on the MSF's social media channels and presented on MSFocus Radio, the MSF's streaming radio station, will shatter preconceptions about what having MS means.
Other activities in this awareness campaign include eight live educational programs in various regions around the country, six informative national teleconferences, and the distribution of 20,000 MS Awareness Kits.
The MS Awareness Kits, a hallmark of National MS Education & Awareness Month, includes a toolkit for people with MS titled Beyond MS, which is designed to help them overcome hurdles to living their best quality of life, including the financial burden of MS, difficulty in access to appropriate medical care, and the challenge of staying active, particularly with increasing disability. Also included is the publication Multiple Sclerosis: What Everyone Needs to Know. Tailored for the general public, this brief booklet explains MS in easy-to-understand terms, and helps the reader to understand the challenges people with MS face.
These educational programs and awareness activities are made possible through generous support from Biogen, EMD Serono, Novartis Pharmaceuticals, Mylan, Mallinckrodt Pharmaceuticals, Genentech, and Sanofi Genzyme.
Visit the MSF at www.msfocus.org. Tune into MSFocus Radio at www.msfocusradio.org or download the app for Android or iOS devices. Find MSF on Facebook at https://www.facebook.com/MultipleSclerosisFoundation or Twitter at https://twitter.com/ms_focus.
The Multiple Sclerosis Foundation is a leading publicly funded non-profit organization with national headquarters located at 6520 N. Andrews Ave., Ft. Lauderdale, Florida. Since 1986, the MSF is dedicated to providing a wide array of free nationally accessible programs and services designed to improve the quality of life for those affected by MS.
Share:
---
Categories: Healthcare, Fund Raising, Education
Tags: activism, awareness, education, fundraising, multiple sclerosis, South Florida
---