Ms. Athene Yu Named FLEX College Prep Young Scholar
High School Freshman Awarded Merit Scholarship in Recognition of Outstanding Academic Achievements
Press Release
-
updated: Aug 31, 2017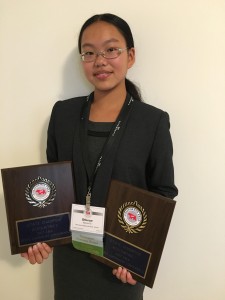 PASADENA, Calif., August 31, 2017 (Newswire.com) - California student Athene Yu has been selected as the recipient of the FLEX Young Scholars Merit Scholarship. An incoming freshman at a local high school, Ms. Yu is being recognized for her academic performance, community service commitments, and leadership attributes.
The FLEX Young Scholars Merit Scholarship is conferred on an exclusive number of students each year by FLEX Pasadena. In addition to a monetary award, scholarship recipients receive free access to educational resources and enrichment programs, including college preparation workshops, through FLEX College Prep.
Ms. Yu has demonstrated tremendous talent and academic prowess in a very short period of time. She consistently earned high marks in middle school, which allowed her to graduate at the top of her class in June 2017. As an eighth grader, Ms. Yu won the title of state champion for Accounting I and II at the state conference in California. Due to her academic performance, Ms. Yu received the President's Award, which was personally signed by the President of the United States.
Apart from these achievements, Ms. Yu has demonstrated a commitment to community involvement through participation in Heal the Bay, the Hunger Project, and the Children's Hospital of Los Angeles.
Upon receiving the merit scholarship, Ms. Yu stated, "I am proud to be the recipient of the Young Scholar Award." Her parents, John and Selene Wu, have also affirmed their pride in their daughter's perseverance and hard work, writing, "We are the kind that believes where there is a will, there is a way."
Young Scholar candidates receive consideration based on academic achievements and abilities, strength of character, leadership positions, recommendations from instructors, community involvement, an interview, and a personal statement outlining future goals. After the scholarship committee evaluates candidates, the director of the program selects scholarship recipients.
"FLEX College Prep is thrilled to work with brilliant young minds like Athene," said Director of FLEX Pasadena's Young Scholars Program Vera Alexander. "She is wise beyond her years, and she has an insatiable thirst for learning that will serve her well in high school, college, and life. Athene is truly a gifted and talented young lady. I'm so proud to welcome her into FLEX Pasadena's Young Scholars Program."
Ms. Yu began high school as a freshman in August 2017. The resources she receives through the Young Scholars Program support her academic pursuits and position her to aggressively compete in three years for a seat at the nation's elite institutions of higher learning.
About FLEX College Prep
Founded in 2001 by Daniel Byun, FLEX College Prep is a global admissions consulting firm that helps thousands of students get into their dream colleges. Our patent-pending Info BankTM approach produces results students and parents appreciate. For more information, visit FlexCollegePrep.com. 
Source: FLEX College Prep
---
Categories: Educational News, K through 12, International News, Gifted and Talented Education (GATE)
Tags: college admissions consulting, college prep, getting into college, high school readiness, preparing for college, preparing to take the SAT
---