MOZA: Mind-Body Healing Expert, Successfully Garners Global Crowdfunding Support from Thousands
Press Release
•
Aug 1, 2023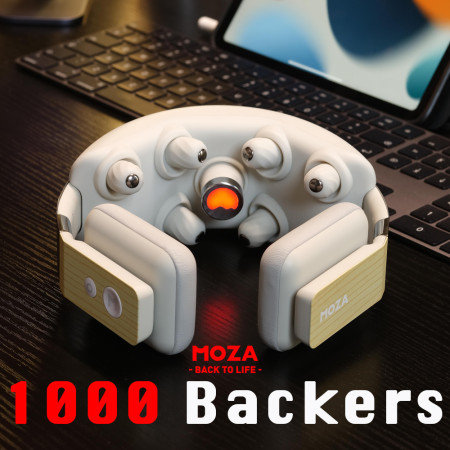 IRVINE, Calif., August 1, 2023 (Newswire.com) - MOZA Technology, the cutting-edge health brand born from American and China team innovation, celebrates a triumphant global crowdfunding campaign. With overwhelming support from thousands of backers, MOZA RoboHands' revolutionary 4D massage experience has won worldwide acclaim.
Since its launch on Kickstarter in June, MOZA RoboHands has exceeded expectations, resonating with a world grappling with post-pandemic economic strain and mental health challenges. MOZA's vision of "Back to life" has struck a chord, empowering individuals to rediscover their health and well-being, living in the moment and embracing self-care.
Fueled by the staggering statistics from the World Health Organization (WHO) showing over 350 million people worldwide affected by depression, MOZA addresses the pressing need for healing solutions. By integrating psychology into rehabilitation through modern technology, MOZA's groundbreaking methods encompass massage therapy, aromatherapy, hot stone therapy, light therapy, and mindfulness. Their patented MOZA Superpower™ spin massage, combined with aromatic oils, reaches deep into muscles, relieving pain, anxiety, and stress - bringing people "Back to life" in just 10 minutes.
"The support from our backers is truly humbling, and it inspires us to push further," says MOZA's founder, Morgan Chen. "We will continue to explore rehabilitation medicine and psychology, creating user-friendly, portable solutions that harness technology to elevate the quality of life, helping people find their way 'Back to life' in just 10 minutes."
Exciting developments are ahead, and MOZA will usher in a major renovation of the official website in August. It will showcase the much-anticipated MOZA brand content and exhilarating product activities.
Additionally, MOZA proudly announces the imminent arrival of a Mysterious new product. Embodying the essence of "Back to life," this Kickstarter innovation promises groundbreaking mind-body healing solutions.
For more updates and information, visit MOZA's official website, and follow them on Social Media for the latest news.
Source: MOZA