MOZA AI RoboHands: The High-Tech Innovative 4D Massager Launching on Kickstarter
Press Release
•
May 30, 2023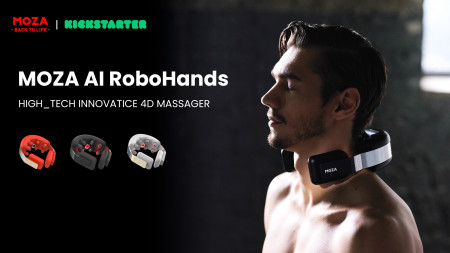 IRVINE, Calif., May 30, 2023 (Newswire.com) - MOZA, the trailblazing health and wellness brand, is thrilled to announce the launch of their revolutionary product, MOZA AI RoboHands, on Kickstarter. This cutting-edge device is designed to provide personalized and effective solutions for neck pain, stress, and fatigue, revolutionizing the way we experience relaxation and achieve a pain-free lifestyle.
MOZA AI RoboHands introduces comprehensive heat therapy with three heating nodes that cover both sides and the back of the neck, delivering a soothing 270-degree circular heat therapy. With eight kneading nodes that simulate human hand motions, MOZA AI RoboHands offers customizable deep tissue massage. Its unique eccentric rotation design increases the massage area, effectively targeting sore muscles and improving blood circulation.
MOZA AI RoboHands goes beyond traditional massagers by incorporating gentle vibration tapping massage to boost immunity. By stimulating lymph nodes and enhancing lymphatic circulation, it contributes to a healthier immune system.
"At MOZA, our mission is to be your personal health hero by addressing a wide range of concerns with innovative solutions," said MOZA's founder, the visionary behind MOZA. "MOZA AI RoboHands provides unparalleled comfort and relief, empowering individuals to live their best lives free from neck pain and stress."
Featuring the patented MOZA Superpower™ Centrifugal Rotating Massage Technology, MOZA AI RoboHands utilizes powerful rotating magnets to apply Shiatsu techniques, soothing soreness, and stiffness. The broad message area ensures optimal comfort and relief.
In addition, MOZA AI RoboHands incorporates a dual-front-support hot compress system and triple NTC temperature control system. This combination promotes lymphatic drainage, improves skin suppleness, and accelerates metabolism. Users can enhance their relaxation with aromatic oils, creating a spa-quality experience at home.
Customization is key with MOZA AI RoboHands' versatile massage heads. The magnetic fascia massage head and relaxation massage head offer tailored programs to relieve poor posture, neck and shoulder fatigue, and headaches. Users can easily switch between different massage modes for ultimate relaxation.
For post-workout recovery, MOZA AI RoboHands' powerful 360-degree repair system targets knots and trigger points, reducing discomfort and promoting lymphatic drainage.
With silent massage technology operating at a mere 38 dB, MOZA AI RoboHands provides an uninterrupted relaxation experience.
The MOZA AI RoboHands massager will launch on Kickstarter on May 30 at 11:00 PM EDT/ 8:00 AM PDT. Early backers will have the opportunity to experience the extraordinary benefits of MOZA AI RoboHands. Exclusive offers and discounts will be available to early backers.
About MOZA:
MOZA is a passionate brand dedicated to the development of mind and body wellness solutions. With years of research and innovation, we aim to create products that bring relaxation, rejuvenation, and joy to people's lives. Our relentless pursuit of excellence drives us to continuously improve and deliver transformative experiences that exceed expectations.
Source: MOZA