Movement Interactive Partners With WPSL to Launch Player Safety Tech
Hiji®Band wearable headband with Bluetooth sensor technology helps detect and report concussions and traumatic brain injuries
Press Release
-
updated: Jun 4, 2020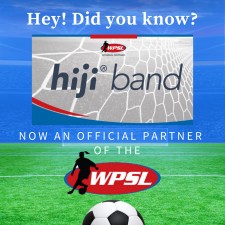 PHOENIX, June 4, 2020 (Newswire.com) - Movement Interactive Inc., an innovative wearable medical technology company, and the Women's Premier Soccer League, announced today they have launched a safety initiative using the technology to detect player head impacts and concussion risk so they can be properly evaluated and treated.
The partnership involves the use of Hiji®Band, Movement Interactive's concussion detection headband. When a player wears the headband during practice and gameplay, the device detects and reports medical quality head impact data in real-time to a mobile device, alerting club trainers of the severity and if there is a concussion from an on-field impact.
"Head injuries in women's soccer have become one of the most discussed topics in the sport during the past decade," WPSL Vice President DeBray Ayala said. "The WPSL has found a strong partner in Movement Interactive to assist our member clubs."
"Dr. Eric Luster has developed a product that will provide our clubs the ability to accurately evaluate the status of their player's potential concussion symptoms caused by impacts to the head," said Ayala. "We look forward to our long-term partnership with Movement Interactive and its HijiBand product."
In addition to real-time match medical data, HijiBand also monitors long-term trend data to assist in injury prevention from the cumulative effect of head impacts over time.
"Working with the WPSL is an amazing opportunity for us," said Luster, Movement Interactive's founder and CEO. "Our mission is to bring an unprecedented level of safety and longevity to the careers of the league's players by revolutionizing the way they train and play. For the next year, our job with the WPSL is to empower these incredible athletes to be the best players and teams they can be in the safest environment possible."
Visit HijiBand.com for more details and to pre-order online. For additional WPSL information and updates, visit wpslsoccer.com.
ABOUT MOVEMENT INTERACTIVE, INC.
Movement Interactive, Inc. develops wearable sensor technology designed to detect the risks of concussions, head injuries and severe falls. The company's flagship product, the Hiji®Band, is a stylish, comfortable safety headband designed for sports athletes of all ages. The patented Bluetooth sensor technology, invisibly held in a small pocket in the headband, detects and monitors the severity of head impacts during sports play, and in the event of an impact, sends real-time data to a mobile app to alert coaches and parents of the severity. The real-time data shows immediate results and tracks cumulative head impacts over time to help reduce the risk of future concussions and traumatic brain injuries. For more information, to pre-order and to purchase online, visit www.HijiBand.com.
Source: Movement Interactive Inc.
Share:
---
Categories: Sports, Fitness, and Recreation
Tags: concussion detection, concussions, head impact, impact detection, sports injuries, sports safety, wearable tech, wearable technology, Women's Premier Soccer League, women's soccer, WPSL
---