Motor4Toys, the World's Largest Charity Car Show and Toy Drive, Takes Place December 1, Presented by Keyes Cars and Porsche Woodland Hills
Press Release
•
updated: Nov 25, 2019
December 1 Marks the 16th Anniversary for the Go-To Charity Event Celebrated by All L.A. Auto Enthusiasts at Pierce College (all entrances open), 6201 Winnetka Avenue, in Woodland Hills, CA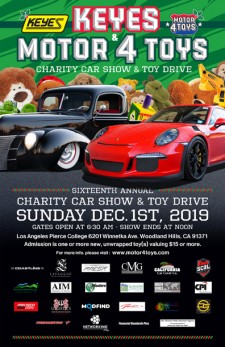 WOODLAND HILLS, Calif., November 25, 2019 (Newswire.com) - ​Dec. 1, 2019 marks a milestone for the world's largest charity car show toy drive, Motor4Toys, presented by Keyes Cars and Porsche Woodland Hills.
Celebrating this year's 16th edition, Founder Dustin Troyan says, "This event is all about the fantastic car community bringing it all together. We invite our supporters to call, email, post, and tell everyone. There are now more children than ever who are in need, so let's come to their rescue. We're all about making kids happy and providing toys for the less fortunate."
The Motor4Toys Charitable Foundation is dedicated to a simple idea: helping as many children as possible during the holiday season. Motor4Toys is very proud of the fact that 100% of all toys and funds collected are donated; there are no salaries associated with the Foundation. Motor4Toys does this because they believe in their cause and also believe that every child deserves a toy during the holiday season.
The Motor4Toys Charitable Foundation revolves around the wonderful and generous California Car Community. For 16 years, the automotive community has always supported the Motor4Toys Charity car shows and toy drives. They have made it one of the most popular events of the season. Motor4Toys is pleased to be part of such an amazing community and appreciate the continuing support. Motor4Toys is very proud of their team. From the core group that comes together every holiday season to the individuals who show up every year to help them with the event, they count on every single volunteer and supporter to make the event and toy drive a huge success.
Motor4Toys is also very proud of and appreciate all the sponsors and those who donate products and services so that we can have raffles or silent auctions that help raise funds to purchase even more toys. Motor4Toys sponsors continue to provide support, year after year, helping to guarantee a great event and a huge success.
To all who have attended and supported Motor4Toys events, all the clubs and individuals, the sponsors, those that make donations, we thank you so very much for being a part of the Motor4Toys Team.
Dec. 1, 2019, from 6:30 a.m. until 12, noon, at Pierce College (all entrances open), 6201 Winnetka Ave., Woodland Hills, CA, 91371
PLEASE BRING THOSE NEW TOYS FOR THE KIDS!
Pierce College (all entrances open) | 6201 Winnetka Avenue | Woodland Hills, CA 91371
About: http://www.motor4toys.com/about.cfm Register: http://www.motor4toys.com/register.cfm
Donate: http://www.motor4toys.com/support.cfm\
WATCH 2018: https://www.youtube.com/watch?v=KeBhaH5L3aY
https://www.youtube.com/watch?v=BGNGfocz0GU
FACEBOOK: https://www.facebook.com/Motor4toys/ http://www.facebook.com/dustin.troyan
INSTAGRAM: https://www.instagram.com/motor4toys/?hl=en
https://www.instagram.com/the_guy_in_the_orange_hat/?hl=en
# # # #
Media: Handsonpr@aol.com
Source: Motor4Toys Charitable Foundation
Tags
Related Files
Additional Links