Mokulele Creates New Non-Stop Route to Fill Market Need
Press Release
•
updated: Dec 13, 2017
New non-stop flights between Honolulu and Kahului begin January 1, 2018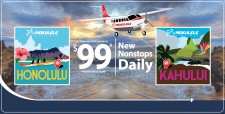 HONOLULU, December 13, 2017 (Newswire.com) - Now the convenience factor just went up when departing from the Daniel K. Inouye International Airport via the commuter terminal. Mokulele is pleased to announce that they will be offering three non-stop round-trip flights per day between Honolulu and Kahului. They will offer these flights seven days per week.
Mokulele Airlines is responding to overwhelming demand for increased options between Honolulu and Kahului. Mokulele received immediate requests to help make travel easier and more efficient for those trying to get to Maui from Honolulu in the wake of the recent changes in the competitive landscape for air travel. As Hawaii's second-largest airline, Mokulele is proud to do its part to make travel between the islands as easy and affordable as possible. "Everyday low fares" between Honolulu and Kahului start from $99 one way* and are available for purchase now at www.mokuleleairlines.com.
The customer convenience and experience in Honolulu now mirror Mokulele's other destinations in Hawaii, while maintaining the highest levels of safety and security.

Rob McKinney, President
Plus, as the sole occupant of the commuter terminal at the Daniel K. Inouye International Airport, Transportation Security Administration (TSA) has ceased operations. When traveling on Mokulele Airlines, passengers can show up just 30 minutes prior to their flight. Mokulele's customers will no longer need to remove their laptop computers or their shoes; in addition, they are welcome to carry a beverage onboard the plane.
"The customer convenience and experience in Honolulu now mirror Mokulele's other destinations in Hawaii, while maintaining the highest levels of safety and security," according to President Rob McKinney. With this added convenience, Mokulele will offer the shortest total trip time at the lowest average fares between Honolulu and Kahului.
Mokulele has reduced its mainland service to better serve our home state of Hawaii. Having the ability to react and respond to community concerns is what we are most proud to do. "We take care of our communities one neighborhood at a time with one hop at a time and are proud to be able to share in finding affordable solutions."
*Fare Rules: Advanced Purchase: 0 days. Blackout Dates: None. Travel valid: Daily.
Terms and Conditions: Advertised fares are valid for new reservations only. Seats are limited and may not be available on all flights or all days. Certain markets are for non-stop travel and others are for connecting travel only, as listed. Fares include U.S. government taxes and fees. All fares are in U.S. dollars and are subject to change without notice, and other restrictions apply. Some markets may not operate daily service. Bag fees apply for checked baggage. Mokulele Airlines will accept checked baggage up to 50 pounds and 45 linear inches for a non-refundable fee, per customer, per bag. Mokulele bag fees are: $20 for first and $25 for second, additional fees apply to check more than three bags or overweight or oversized items. These fares are nonrefundable but can be changed for a $25 change fee per person. Applicable fare and tax differences apply to any changes made after ticketing. Any changes need to be done before the flight departs or your reservation will be cancelled and all value lost. Book at www.mokuleleairlines.com. A ticket purchased through a Mokulele reservation call center will cost $20 more per reservation than the advertised fare.

About Mokulele Airlines:
Mokulele is a family-owned and operated airline which has quadrupled its number of flights since 2011. The company owner, Ron Hansen, is focused on the brand's continued upward growth. Mokulele is based in Kona, Hawaii, and employs nearly 300 people. Mokulele operates 16 late-model Cessna Grand Caravans and provides over 120 daily flights between seven airports on Oahu, Maui, Molokai and Hawaii. In addition, Mokulele provides Mainland service between Imperial / El Centro and Los Angeles.
AFFORDABLE ADVENTURE AWAITS - To book your next Mokulele Hop in Hawaii or California, visit http://www.mokuleleairlines.com.
Source: Mokulele Airlines, Hawaii