MOFT Launches New Line of Invisible Stands for Mobile Phones and Tablets on Kickstarter
Press Release
•
updated: Sep 6, 2019
$100,000 funded in only 24 hours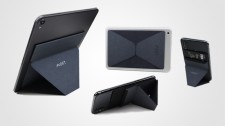 SUNNYVALE, Calif., September 6, 2019 (Newswire.com) - ​​Following a highly successful Kickstarter campaign for the MOFT Invisible Laptop Stand, MOFT (short for Mobile Office for Travelers) introduced two new Invisible Stands for tablets and mobile phones. The MOFT X Invisible Tablet and Phone Stands attach to the bottom of the device via reusable adhesive and quickly folds out when the user needs to change the vantage point for more productivity and comfort.
The ultra-compact MOFT X Invisible Tablet and Phone Stands are less than 5mm thick and light as a feather, making them perfect for mobile working. Constructed with special polyurethane and fiberglass material, the MOFT stands are strong and stable, despite their ultra-slim size. Special removable adhesive means it conveniently attaches and detaches from a mobile device, reattaching again and again with the same strength, effectiveness and sensitivity … yet no glue residue.
Paper-Thin Magnetic Wallet Phone Stand
The MOFT X Phone Stand weighs only 1 ounce and allows two elevation adjustments (40 degrees and 60 degrees) that make it easy to find the ideal height and posture: the 60-degree setting is perfect for a sitting posture, and the 40-degree setting is great for a standing posture. View the phone in either landscape or portrait mode. Built-in magnets allow the user to unfold the stands quickly and securely attach it to a flat surface, like a dashboard or refrigerator. The MOFT Phone Stand can also store up to three credit cards in a convenient pocket. The stand is compatible with a wide range of mobile phones larger than 4.7inches, including the new iPhone 11, Google Pixel 3 and Samsung Galaxy S10 Plus.​
Lightest & Most Adjustable Tablet Stand
The MOFT X tablet stand comes in two sizes, only 3.7 mm thin and weighing 3.0/4.8 oz, respectively. It allows six viewing angles: in portrait (60°, 40° and 25°) and landscape (60°, 40° and 30°). It also features a special magnetic attachment for an Apple Pen, which keeps it safely within reach. The stand is compatible with a wide range of tablets up to 13 inches tall, including the Apple iPad Pro, Samsung Galaxy Tab S4 and Pixel Slate.
MOFT X has been available on Kickstarter since Sept. 3, 2019. The early bird price for the MOFT phone stand is only $14 per stand and $26 for double packs. And for the tablet stand, it's only $17 per stand and $30 for double packs. For more information, please visit the MOFT X Kickstarter page.
About MOFT:
MOFT stands for "Mobile Office for Travelers." It is a brand aimed at creative inventions that boost productivity. (www.moft.us) We are committed to simplifying users' daily lives with smart products. It meets various people's needs, be it a remote worker, a student, a traveler or anybody else. The unnecessary process in a jam-packed schedule can be reduced with the help of our products.
Source: MOFT
Additional Links