Modus Nutrition Offers MTV Movie & TV Award Nominees a Solution for Improving Their Focus, Sleep and Nutrition
Press Release
-
updated: Apr 7, 2017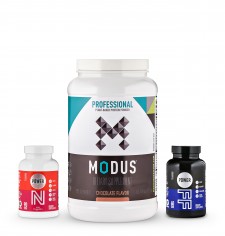 Los Angeles, California, April 7, 2017 (Newswire.com) - Modus Nutrition, a nutraceutical brand including Power On to improve mental edge, Power Off to enhance sleep quality and Modus, the first plant-based protein to compete with whey and casein, is proud to be invited to sponsor the Secret Room Event held in honor of the 2017 MTV Movie & TV Awards nominees.
Nominees and special guests of the Secret Room Event will be gifted with Modus Nutrition's NSF Certified for Sport products – Power Off, Power On and Modus Protein. With Power Off and Power On in hand we can be confident that the nominees will have a great night sleep and will wake feeling refreshed and able to maintain focus during the day. And, Modus Protein has their nutrition covered by ensuring they have at least 30 grams of protein per serving.
The Secret Room Event, a gifting suite for the nominees of the MTV Movie & TV Awards, is an annual event where celebrities have access to the newest and hottest trends in clothing, jewelry, electronics, gadgets, gourmet food and more. It is open exclusively to celebrities, VIPs and media and hosts some of the most unique, fashionable and luxurious companies. Modus Nutrition was selected because of its unique position in the nutraceutical market.
"Modus Nutrition is excited to share our Certified for Sport products – Power On, Power Off and Modus Protein – with the nominees of the 2017 MTV Movie & TV Awards," said Elaine Kunda, CEO, Modus Nutrition. "Like the actors and directors here today, our products are also best in class in the categories of sleep, nutrition, and focus."
Power On is a proprietary blend of 15 ingredients working in synergy to promote memory, alertness, energy, productivity and brain health and improve muscle twitch response. It offers peak mental acuity without over-clocking the brain. Power Off is a proprietary blend of nine ingredients to promote relaxation, sleep and brain health. It addresses one of the most destructive health problems plaguing the public – chronic suboptimal sleep.  Taken together, the smart supplementation protocol of Power On and Power Off can enhance the ability to get high quality sleep, wake up refreshed, and maintain focus in the face of every day stresses and distractions.
Modus Protein is a professional plant-based protein powder with a proprietary blend of pumpkin seed protein, cranberry seed protein and potato protein isolate with comparable absorption and protein quality to whey and casein. Modus contains proteins that are fast and slow absorbing to optimize muscle growth, repair and retention, and delivers 30 grams of protein and an unusually high seven grams of BCAAs per serving.
In addition to the nominees, Modus Nutrition is sharing the day with our special guests and Modus Nutrition supporters, Summer Rae (WWE), Victor Espinoza (Triple Crown Jockey and Dancing with the Stars alum), Andrew Cogliano (Anaheim Ducks), Mary Kitchen (The Insider) and Andy Reyes (Entertainment Tonight).
NSF Certified for Sport
Power On, Power Off and Modus have completed the requirements of the NSF Certified for Sport program. This confirms that Modus Nutrition products do not contain any of the 265+ substances banned by major athletic organizations. This program verifies that the contents of Power On, Power Off and Modus actually match what is printed on the label. It also verifies that our products are manufactured at a facility audited by NSF for quality and safety. With Power On, Power Off and Modus being certified by NSF International's Certified for Sport program, you can be confident that the products are being regularly checked by one of the most respected certifiers in the world.
Follow Modus Nutrition on social @modusnutrition: Facebook | Twitter | Instagram
For more information please contact:
Kelly O'Neill
Kelly@vitalere.com
(905) 601-8819
NSF Certified for Sport is a registered trademark.
Source: Modus Nutrition
Share:
---
Categories: Celebrities, Healthcare, Dieticians and Nutritionists
Tags: Health, Mary Kitchen, Mental Edge, ModusNutritionMTV, ModusNutritionSwag, MTV, Nutrition, Performance, Sleep, Summer Rae, Victor Espinoza
---