Modern Family Houses to Accept Bitcoin Payments for Custom Homes
Press Release
•
updated: Aug 15, 2019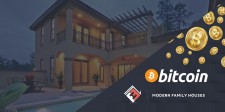 STATEN ISLAND, N.Y., August 15, 2019 (Newswire.com) - Residential builder Modern Family Houses will enable customers to purchase custom steel-frame homes with Bitcoin (BTC). This announcement means that holders of the popular cryptocurrency can now use it to pay for the land and construction of brand new homes in New York and New Jersey.
With Bitcoin's coin price skyrocketing from hundreds of dollars in 2016 to thousands in 2017 and beyond, many investors gained newfound wealth. Using Bitcoin to purchase real estate gives investors the opportunity to liquify their digital assets without paying the significant capital gains tax that comes with converting it to cash. It also makes home buying easier for those holding fiat currencies that are difficult to convert to USD.
"We believe that the demand is there to buy homes with Bitcoin – the problem is that most builders and realtors are not prepared or willing to process transactions with cryptocurrency for such a major asset," said Modern Family Houses president Igor Soshkin, a New York entrepreneur who has been influential in the development of crypto e-commerce. "We want to make Modern Family Houses accessible to as many different home buyers as possible."
About Modern Family Houses
Modern Family Houses is a custom builder that covers the entire home buying process from land acquisition to design to construction. Manufacturing sturdy steel homes in accordance with New Jersey and New York building codes, the company makes the process of building a custom home affordable and fast, with the entire process taking less than a year in most cases.
About Bitcoin (BTC)
Bitcoin was launched in 2009 by Satoshi Nakamoto as a decentralized digital currency based on blockchain technology. Since then, it has become widely adopted around the world with a market capitalization in the hundreds of billions of dollars. Bitcoin has been responsible for the mass adoption of blockchain technology and digital currency, inspiring hundreds of altcoins and cryptocurrency-based innovations.
Source: Modern Family Houses
Related Media
Tags
Additional Links