Mobile Photo Connect Conference Is Now Visual 1st
Press Release
•
updated: Oct 30, 2017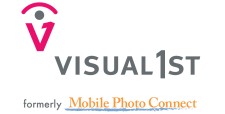 SAN FRANCISCO, October 30, 2017 (Newswire.com) - Affirming that visuals are at the core of how consumers communicate and retain their memories, Mobile Photo Connect, the premier conference focused on promoting innovation and partnerships in the photo and video ecosystem, is being re-branded as Visual 1st (visual1st.biz). Conference chair Hans Hartman introduced the new name at the 5th annual Mobile Photo Connect event last week.
In his keynote address, Hartman outlined five key market trends which all point to the pervasive and prominent role of visuals in today's communication and memory retention platforms:
Visual-rich social media, publishing and messaging networks
Visual-rich ephemeral and Story formats for unrestricted, casual communication
Camera-first and creation-focused social media apps to entice ongoing consumer engagement
The potential of mixed reality visuals that combine camera-captured visuals with computer-generated VR or other visuals
The impact of artificial intelligence (AI) for about any possible visual use case
With visuals as the core to these trends, the choice of Visual 1st as the new conference name was a natural one, according to Hartman, who added, "the terms 'mobile' and 'photo' are no longer useful descriptors, due either to having become ubiquitous – as is the case for 'mobile' – or to being too narrow to reflect the evolution of the conference's content over the years.
"Mobile imaging used to equal Smartphones, but now we have action cams, drones, 360 cameras, AI-based cameras like Google Clips or Amazon Echo Looks – all are mobile to a significant degree. So 'mobile' is the new norm. It's reminiscent of when we used the term 'digital photography' during the transition from film to digital, and before abandoning it when it became clear that 'digital' was the default and film the exception."
In his Visual 1st keynote address, Hartman also pointed out that the worlds of photography and videography are increasingly overlapping, with the same devices taking visuals in either, or sometimes simultaneously in both, formats. Video-frames are being extracted as photos, photos can now be short video clips, and workflows, use cases and tools are increasingly the same for both photos and videos.
Going forward, Visual 1st will continue the successful formula of Mobile Photo Connect: Bringing together entrepreneurs and senior executives of innovative businesses who can leverage each other's technologies through APIs, SDKs or other methods to enhance their products or services, for instance to enable automatic image enhancement, to monetize user engagement through photo print products, to offer face or image recognition features, to aggregate and curate user-generated content, to store visuals in the cloud or on devices, or to leverage various (other) AI-based solutions without needing to develop these all in-house.
"We're already looking forward to designing a Visual 1st event that will make attendance even more rewarding and enjoyable at our sixth conference next year," said Hartman.
About Visual 1st
Visual 1st (visual1st.biz) is the premier conference focused on promoting innovation and partnerships in the photo and video ecosystem. Visual 1st is the new name of Mobile Photo Connect, the conference founded in 2013.
The annual conference hosts executives and entrepreneurs at photo or video app development startups, mobile device vendors, cellular carriers, cloud storage providers, software companies, print product providers, camera manufacturers, and many others.
The international conference is co-hosted by Hans Hartman, president of Suite 48 Analytics, and Alexis Gerard, founder of Future Image Inc. and the 6Sight Future of Imaging Conferences, and co-author of the seminal 2005 book "Going Visual."
Contact: Hans Hartman, contact@Suite48A.com
Source: Visual 1st
Related Media
Tags
Additional Links