2017 Visual 1st Awards Go to Photomyne, PastBook, V360, and Streetography
Press Release
•
updated: Oct 30, 2017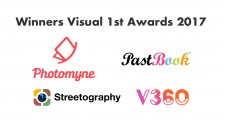 SAN FRANCISCO, October 30, 2017 (Newswire.com) - At Visual 1st (visual1st.biz), the newly rebranded premier conference focused on promoting innovation and partnerships in the photo and video ecosystem, formerly known as Mobile Photo Connect, a panel of high-powered industry observers presented the four Visual 1st Awards to the most outstanding among 30 products competing in this year's show-and-tell demo sessions.
The 2017 Visual 1st Awards winners are:
The Best of Show Photomyne app offers an efficient way to scan, auto-crop and restore colors of legacy printed photos, as well as to safely back these photos up in the cloud. The company aims to build the world's largest archive of pre-digital images.
Awards Judge Geraldine Le Meur, commented, "Although Photomyne is still at a very early stage, they're on track to solve an important problem: how to protect our pre-digital era visual memories and pass them on to the next generation. I especially like their vision of wanting to become the 'Instagram of the Past,' as well as to index photos with AI to recreate memory connections."
The Best Business Potential Award app, PastBook offers a one-click solution to create printed photobooks from large photo selections out of Facebook, Instagram or other sources.
According to Awards Judge Haje Jan Kamps, "With mobile photo printing solutions becoming a commodity, PastBook manages something that is kind of magical in the photo printing industry: it generates recurring revenues through annual personalized yearbooks. What's more, these yearbooks tie into the social graph and leverage the viral power of social networks. I imagine that PastBook will make piles of money!"
The Best Technology Award app, V360 enables 360 video editing features directly on one's phone. Its features include sorting and trimming 360 footage, adding music and rendering the edited video directly on the phone.
Judge Andy Kelm, summarizes his take on V360: "V360 solves a very clear problem, with lots of 360 content being generated and no easy way to consume it. The company is clearly at the early stages of what I expect to be a very large market. Having been around mobile and photos for a very long time, I especially like that V360 is mobile-first rather than adapted to mobile. It also has great B2B potential."
The winner of the Special Recognition Award, Streetography shows maps seen through the lens of photographers who have previously explored the area. It overlays maps with curated photos to give users a taste of the local flavor of each block, neighborhood, or city.
According to Judge Jackie Dove, "I really like how Streetography mixes photography with street maps to give users an entirely new way of looking at specific neighborhoods or cities. Streetography adds a ground level experience and context to maps that we don't see anywhere else. I appreciate that Streetography is based on crowdsourcing and that people could contribute to it, and that location coverage enjoys continued growth."
The judging panel for the Visual 1st Awards is composed of prominent representatives of both the hi-tech media and investment communities, whose endorsement is so critical to app developers. This year's judges:
Geraldine Le Meur, Co-Founder & General Partner, The Refiners
Haje Jan Kamps, Writer and Entrepreneur
Jackie Dove, Writer and Editor
Andy Kelm, Managing Director, Palmarés Advisors
This year's Show & Tell photo and video app presenters:
Adobe
Beamr
CaptureLife
Chatbooks
Dabkick
Diagramics
Fujifilm
HP
Kite
Kwilt
LivePortrait
Loop
PastBook
PhotoGurus
Photomyne
Pic Collage
Picanova
Rainhut
SanDisk
Storyo
Streetography
Taopix
TeamFotog
Timebox
V360
Vicman
Whorl
Winning Fotos
Zebra Instant

About Visual 1st
Visual 1st (visual1st.biz) is the premier conference focused on promoting innovation and partnerships in the photo and video ecosystem. Visual 1st is the new name of Mobile Photo Connect, the conference founded in 2013.
The annual conference hosts executives and entrepreneurs at photo or video app development startups, mobile device vendors, cellular carriers, cloud storage providers, software companies, print product providers, camera manufacturers, and many others.
The international conference is co-hosted by Hans Hartman, president of Suite 48 Analytics, and Alexis Gerard, founder of Future Image Inc. and the 6Sight Future of Imaging Conferences, and co-author of the seminal 2005 book "Going Visual."
Contact: Hans Hartman, contact@Suite48A.com
Source: Visual 1st
Related Media
Additional Links