Mobile Innovations Embeds a Samsung DeX Station in the New Darta Fleet Solutions Police Cruiser for Low-Cost In-Vehicle Mobile Data Using Galaxy S8 & S8+ and Galaxy Note 8 Devices.
The Samsung DeX is Mobile Innovations' secret weapon in the new Darta Fleet Cruiser, for lowest-cost, secure RMS and mobile data for law enforcement. Mobi's audience loved it and is asking for a more detailed follow-up. Good show Mobinnoco!
Press Release
-
updated: Oct 24, 2017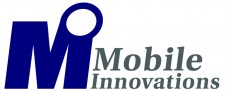 PHILADELPHIA, October 24, 2017 (Newswire.com) - Mobile Innovations and Darta Fleet Solutions embed Samsung DeX Station Into Concept Police Cruiser At IACP 2017 For Low-Cost In-vehicle Data Using Galaxy S8 and S8+ and Galaxy Note 8 devices.
Mobile Innovations Founder and CEO Gary Bauer today officially announced immediate availability of his company's solution for secure mobile data, in the form of a fully-loaded Darta Fleet Solutions Dodge Enforcer featuring Samsung DeX Station with USB, HDMI and Ethernet connections.
To maximize in-car users' visibility and ease of use, Mobile Innovations has DeX enabled their Android Niche RMS client so that it presents in portrait mode on the phone. When docked in the car the Galaxy S8 or Galaxy Note8 is presented in a full-screen landscape mode on 12.1 ruggedized screen. While docked in the car the phone is also being charged by the DeX Station.
In this concept cruiser, Mobile Innovations leverages the affordability and functionality of DeX Station by adding a ruggedized 12.1 inch monitor and keyboard — turning the Galaxy Note 8 or Galaxy S8 or S8+ into an end-to-end mobile data access solution. From the officer's hand to a desktop, to an in-vehicle Samsung 8 series device — there is no break in the chain with fingertip data access that is better, faster and cheaper.
The entire in-cruiser RMS data setup available launched at the IACP 2107 Conference and is available now for about one-third of the cost of a ruggedized laptop solution.
"We've worked on a few concept cars with Mobile Innovations over a five- or six-year period, but our upfit for Samsung is past the concept stage and is immediately commercially available today!" said Mr. Bauer.
Comments from participants at the IACP conference being articulated are 'the battle for the handheld will be won on the desktop', and the DeX Station is a huge factor in seeing how this could permit your phone to become your primary data device, in-car, at your desk, and on the street.
For more information, please contact:
Gary Bauer, CEO - 416-706-7669 - garyb@mobinocco.com
 
Source: WATCHMEdia
Share:
---
Categories: Compliance and Regulations, Public Sector, Defense and Homeland Security, Computer Software, Database Management Systems, Law Enforcement, Conventions, Trade Shows, Meetings and Events, Breaking News, Public Safety
Tags: Darta Fleet, Low-cost mobile police data, Mobile Innovations, NIche RMS, Samsung DeX, Secure mobile data
---