Missouri Man Fights Cerebral Palsy Using Martial Arts
Press Release
•
updated: Sep 7, 2017
Brazilian Jiu Jitsu training helps 19-year-old's fight with cerebral palsy.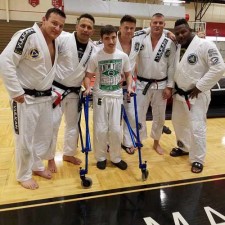 MILLTOWN, Wis., September 7, 2017 (Newswire.com) - ''Fight'' is something Nick Turnbo has had from the very beginning. Born 12 weeks early, Turnbo weighed in at just 1 lb. 6 oz. and spent his first three weeks of life on a ventilator and feeding tube. In his first 2 1/2 months, he more than tripled in weight and was strong enough to go home.
By eight months old, he was back on the ventilator and feeding tube for two weeks due to a case of RSV (Respiratory Syncytial Virus). Living with Cerebral Palsy, his next 14 years included surgeries on his eyes, spine, heel cords and hamstring.
I never imagined MMA could be such an influence on my life. It is only through the overwhelming support and encouragement that I have been able to accomplish so much.

Nick Turnbo, Martial Artist
Despite needing a walker, in the last year, Nick, now age 19, has become a fighter in more traditional sense, as he began training in Brazilian Jiu Jitsu and under the tutelage of Mike Rogers and Matt Ricehouse of St. Charles MMA (SCMMA) in St. Charles, Missouri, and weight training under the direction of Sam Richardson.
''It's no surprise to me that Nick takes on the physical challenges that he does,'' said his mom, Patty.
Inspiration
Nick first became interested in MMA after watching his friend, Johnny Cox, fight locally.
''I sat cage side and almost felt I was a part of the fight,'' Nick said after watching Cox fight for the first time. ''They were so close, I swear I felt sweat from the fighters hit my face. I was hooked.''
At that point, he sought out more fights to watch on television and in person.
''I recall watching my first Bellator fight - Michael Chandler vs. Patricky Pitbull (Freire) 2011,'' Nick said.
Chandler, an alumnus of Nick's high school, Northwest High School, defeated Freire by unanimous decision to improve his pro record to 8-0 and earn a title shot against Eddie Alvarez - which he won six months later by a rear-naked choke.
''It was so exciting to see a hometown boy make it big!'' Nick said.
Chandler even reached out to Nick later, giving him floor seats to his June 24, 2016, rematch with Freirie at Bellator 157, at which he knocked out Freire with a punch to claim the title once again.
''(Chandler) even came to my seat after winning the Lightweight Belt,'' Turnbo said.
Training begins
In December 2014, Nick sought out Richardson's help for MMA training.
''I began training two times a week, grappling and hitting the mitts,'' Nick said. ''I was learning all the submissions and moves I had seen my favorite fighters do. Sam showed me that I could do it; he gave me the motivation I need to get off the couch and get rollin'.''
Then at one of the local fights, he met Rogers, a second-degree black belt in BJJ under Rodrigo Vaghi with a background in boxing and wrestling as well.
Nick told Rogers, ''My dream is to one day fight in the cage.''
So Rogers invited Nick to train with him at SCMMA and Nick jumped on the opportunity. In his first session at SCMMA, Nick worked with UFC flyweight Josh Sampo.
''BJJ is the best form of self-defense because of all the ground techniques,'' Nick said. It also has helped Nick with developing good eating and exercise habits.
Now a three-stripe white belt, Nick, working on his weight training and mitt work with Richardson, his technical BJJ with Rogers, and some additional training at Team Vaghi Headquarters in Ellisville, Mo., claimed first place in his division at the Greatmats-sponsored American Grappling Federation (AGF) St. Louis BJJ Championships in St. Charles on July 15 - his first AGF tournament.
''It was not until my opponents tapped, did I realize the amount of cheering,'' Nick said. ''It was a wonderful experience, and [I] cannot wait for the next AGF Tournament."
Even after Nick earned his first gold medal, Rogers said, ''Nick's biggest accomplishment is BJJ so far is making the move to start and not stop. He's done technique tests and passed everything. I like his enthusiasm and that he proves once again that BJJ is for everyone.''
Both Turnbo and Rogers are especially pleased with the AGF for providing organized competitions with strong competitors, team scoring, and a pleasant staff.
''I never imagined MMA could be such an influence on my life,'' Nick said. ''It is only through the overwhelming support and encouragement that I have been able to accomplish so much.''
To learn more about Greatmats-sponsored American Grappling Federation Tournaments and athletes visit Greatmats' AGF Tournament Resource Page.
Source: Greatmats.com
Related Media
Tags
Additional Links