Misahara Jewelry and Jeffrey Levinson Join Forces and Create a New Category in Fine Luxury Accessories for Women
Press Release
•
Feb 2, 2023
First-of-its-kind, a day-to-night clutch accompanied by a detachable chain that doubles as a beautiful fine jewelry necklace or bracelet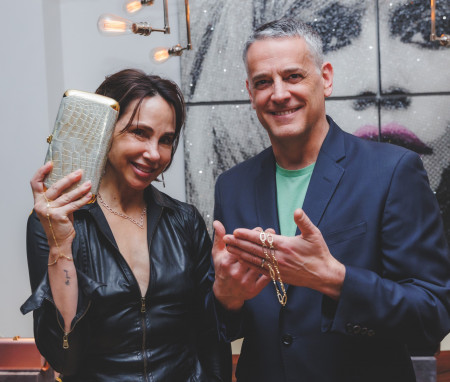 NEW YORK, February 2, 2023 (Newswire.com) - Designers Lepa Galeb-Roskopp and Jeffrey Levinson have collaborated to create a fully customizable luxury handbag that is both innovative and versatile. Combining Misahara's signature Chain City Chain with a dedicated version of Jeffrey Levinson's Finley Clutch, the stunning bag features a detachable 14K gold strap that doubles as a necklace. Levinson's Finley Clutch with hardware endcaps and Misahara's Levinson Chain are sold exclusively for the collaboration and cannot be ordered separately.
The duality of the strap and necklace encompasses the designers' passion for beauty and technical excellence. Customers can personalize the dual-purpose strap and necklace by choosing from different gemstones, gold color, enamel, length, textures and more. Bag finishes and hardware can be chosen to match or complement the strap in an array of finishes including gloss, matte, translucent, precious metal, fine leaf, and exotics. Every detail and function was considered during the design process: The Finley Clutch is made from high-specification aerospace-grade aluminum, making it remarkably strong and lightweight; the handcrafted solid-gold strap underwent various stress tests to ensure durability when carrying the bag.
The Misahara Finley Clutch debuted to the press on Thursday, Jan. 26, during an intimate evening at designer Lepa Galeb-Roskopp's apartment in New York City. Editors from the top luxury publications were in attendance. The brands shared the story of the collaboration and the unique details of the product. Guests responded with enthusiasm in seeing two luxury houses coming together to create a first-of-its-kind product in this timeless clutch. Clients were able to begin the bespoke ordering experience the following morning, Jan. 27.
The synergy between Misahara and Jeffrey Levinson ignited nearly two years ago when the collaboration began, and it stems from the designers' love of luxury cars. Misahara has been the exclusive fine jewelry brand partner of Ferrari North America for the last six years while Jeffrey Levinson has previously worked with Jaguar. Together, their love of luxury has resulted in a collaboration that combines quality, taste, and versatility. The Misahara Finley Clutch is available for order at Misahara.com and JefferyLevinson.com. Clients can contact either brand to begin the design process with Levinson and Galeb-Roskopp. The one-of-a-kind bags start at $10,000 and vary based on customization.
Jeffrey Levinson launched his brand to create beautiful, timeless pieces inspired by his background in the automotive industry and his interest in merging design and technology. Now, the Jeffrey Levinson clutch is the modern accessory, a sleek and versatile clutch that was inspired by the iconic and revolutionary Jaguar D-Type. With a supremely comfortable feel, the technologically advanced Finley comes in an array of rich, vibrant colors ranging from $850-$4,750.
Source: Misahara
Related Media