Millennials Prefer Healthy and Convenient Snacks
Press Release
•
updated: Dec 19, 2019
Healthy YOU Vending provides convenient access to quality snacks, drinks and entrées to meet the demands of on-the-go lifestyles.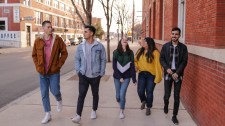 SALT LAKE CITY, December 19, 2019 (Newswire.com) - ​According to a new report by Mondelēz International, consumers' dietary preferences are changing throughout the world. The first-ever State of Snacking report, developed in partnership with consumer polling specialist The Harris Poll, found people want smaller bites throughout the day, healthy choices and quality ingredients. And Millennials prefer this more than any other group.
Seventy percent of Millennials surveyed said they prefer snacking throughout the day, as opposed to eating larger meals.
But a penchant for eating on the go is far from the only thing to glean from the report. For 87% of those polled, convenience was a top factor impacting snack choice. And 80% of consumers reported that they look for healthy, balanced bites. It appears consumers want both convenient and healthy snacks.
Eating healthy, quality snacks throughout the day can be beneficial to health. According to culinary nutritionist Jackie Newgent, "Snacks can actually help fill in nutrient gaps and lead to a healthier overall eating plan."
A healthy vending machine can provide the sought-after, convenient access to wholesome, quality snacks and drinks. Healthy snacking can help prevent hunger and the inevitable (and associated) overeating at mealtime.
"Empowering people to eat healthy by providing convenient access to wholesome, delicious and quality snacks, drinks and entrées is what we have always done," said Healthy YOU Vending's Director of Operator Services Jill Navidomskis. "In today's busy world, taking the time to indulge in a sit-down, healthy meal can seem out of reach for a lot of people. So, we're happy to provide a healthy alternative to traditional vending machine and convenience store fare."
###
Healthy YOU Vending is the world leader in the healthy vending industry. With corporate offices in Kaysville, Utah, the Healthy YOU Vending team is dedicated to making healthier snacks, drinks and food products more accessible to people across North America. All company vending equipment is privately manufactured in the United States at a state-of-the-art facility. Owner/Operator opportunities for serious-minded and health-conscious entrepreneurs are currently available in most states.
Source: Healthy YOU Vending
Tags