February is National Children's Dental Health Month
Press Release
•
updated: Feb 21, 2019
Studies show that smart, healthy snacking with less sugar is critical to maintaining healthy teeth and gums. Healthy YOU Vending provides convenient access to a variety of low-sugar snack options.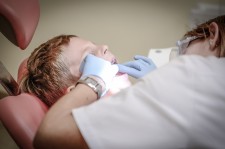 SALT LAKE CITY, February 21, 2019 (Newswire.com) - For many decades, it has been common knowledge amongst most Americans that sugary foods and starches can have detrimental effects on dental health. Young children and adolescents are particularly vulnerable when it comes to dental decay due to inefficient hygiene habits and underdeveloped enamel.
It is important to limit dietary intake of sugary snacks and beverages, particularly outside of regular mealtimes. Edibles that are sticky, such as fruit snacks, candies, caramels, jelly beans and raisins can adhere to teeth and gum lines. This prevents saliva from washing away the build-up left behind, resulting in plaque.
Bacteria found in plaque uses sugar as its primary energy source to release enamel-eroding acids which, over time, will form cavities and other dental complications. To maintain a healthy dental environment, avoidance of foods high in sugar is suggested, especially for young children. If this is not a feasible option, it is recommended that a brushing and flossing routine be implemented immediately after ingesting sugary foods and beverages.
Replacing common snacks with healthier, low-sugar options is a beneficial lifestyle change that can have long-lasting and powerful effects on dental health, especially in children. It is also imperative that adolescents learn constructive eating habits that will positively impact the health of their mouth over the course of a lifetime.
Healthy YOU Vending recognizes the need for superior snack and beverage options that directly correlate with a diet that supports dental health and an overall sense of well-being. Our objective is to provide solutions to help avoid dental health challenges by making healthy snacks and drinks readily available. Our operators located throughout the United States carefully stock their machines with products that meet a high standard of quality and nutrition.
For more information about Healthy YOU Vending, its entrepreneurial philosophy and the Healthy YOU Difference, go to http://www.healthyyouvending.com/.
Healthy YOU Vending is the world leader in the healthy vending industry. With their corporate offices located in Kaysville, Utah, the Healthy YOU team is dedicated to making healthier snacks, drinks and food products more accessible to people across North America. Their vending equipment is privately manufactured in the United States at a state-of-the-art facility. Owner/Operator opportunities for serious-minded and health conscious entrepreneurs are currently available in most states.
Source: Healthy YOU Vending