Millennial-Focused Entrepreneur Development Platform Coming to Brooklyn
StartupRunner and Industry City Join Forces to Empower Millennial Entrepreneurs.
Press Release
-
updated: Nov 14, 2017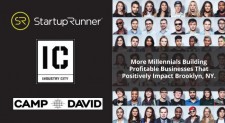 NEW YORK, November 14, 2017 (Newswire.com) - Millennial entrepreneurs in the Tri-State area will soon have a new resource within one of Brooklyn's fastest-growing startup hubs. StartupRunner, a multi-level platform that helps millennials build profitable businesses that positively impact their communities, is bringing its suite of entrepreneur support and development programs to Industry City, the 6 million square foot innovation economy campus located on the waterfront in Sunset Park, Brooklyn.
StartupRunner will facilitate monthly meetups of young entrepreneurs from Brooklyn and surrounding areas, business bootcamps where early-stage startups compete each month for a $5,000 investment, and an exclusive, eight-week accelerator program where entrepreneurs with growing businesses learn how to acquire high lifetime value customers, identify market opportunities, and prepare for investor capital to scale.
"The vast majority of the 450 companies based at Industry City are small businesses and startups, employing between 1 and 10 people," said Derick Thompson, founder of StartupRunner. "Joining this already vast network of entrepreneurs is an incredible opportunity for our holding company to invest in diverse early-stage startups generating free cash flow (FCF) increasing returns on equity (ROE) and earnings per share (EPS)."
With sequenced programming designed to support startups at every stage of the startup lifecycle, StartupRunner has been influential in the entrepreneurial journey of thousands of entrepreneurs nationwide since its founding in 2013.
At Industry City, StartupRunner will be part of an extensive community of makers and innovators that includes a wide range of emerging and established companies. The diverse mix of companies at Industry City encapsulate the innovation economy—the industries and functions that form the full arc of the product-making process and includes physical, digital and engineered products. Businesses based at Industry City include: Time Inc., Conde Nast, West Elm, Publicis, Shyp, Aerobo, Suneris, Motivate, FilmRise, AbelCine, and David Stark Design.
In addition to StartupRunner's services, Industry City also offers companies a wide range of business development resources at its community jobs and entrepreneurship development center known as Innovation Lab. Since its opening in 2016, Innovation Lab has helped hundreds of small businesses find local talent and access services aimed at growing their companies.
About StartupRunner
StartupRunner is a holding company that buys equity in diverse early-stage startups that demonstrate the ability to generate free cash flow (FCF), increasing returns on equity (ROE) and earnings per share (EPS). Founded by Derick Thompson and recently joined by CTO and GP Thani Sokka, former VP of Technology at Dow Jones, StartupRunner has invested in and helped to grow startups like Aiwa, Aspire Drinks, Interplay Learning, Kammok, Plum, ScaleFactor, Seeko Designs, and TreeHouse. www.startuprunner.com
About Industry City
Industry City is a 6 million-square-foot mixed-use complex comprised of 16 buildings spanning 35 acres situated on the waterfront in Sunset Park, Brooklyn. The property's ownership — led by Belvedere Capital and Jamestown — is transforming the complex, while cultivating a diverse tenant mix that fuses today's burgeoning innovation economy with traditional manufacturing and artisanal craft. To date, the transformation has included over $250 million of infrastructure improvements, the addition of destination courtyards, experience-driven dining, retail and other amenitization and event programming. This work is paving the way for a vibrant and diverse community of forward-thinking companies that support good-paying jobs for workers across skill and experience levels. Since the new partnership was forged in August 2013, businesses based at Industry city have grown by an average of 100 jobs per month, increasing employment from 1,900 jobs in 2013 to more than 6,500 jobs today. www.industrycity.com
Direct all press requests to Lisa Serbaniewicz - lserbaniewicz@marinopr.com
Source: StartupRunner
Share:
---
Categories: Business News, Emerging Businesses, Entrepreneurship, Small Business, Investments, Venture Funding
Tags: Andrew Kimball, Brooklyn, Derick Thompson, Entrepreneurship, Industry City
---
Related Files
Additional Links