Microsoft Desktop Web Client vs TSplus HTML5 Client
Press Release
•
updated: Jul 27, 2018
Microsoft released the Windows Remote Desktop Web Client on July 16, 2018. The TSplus HTML5 Client, available since the 3.30 release, is the best way to instantly Web-Enable any desktop application and run legacy applications inside any web browser. It is being constantly enhanced to guarantee fully secure connections and great user experience on all devices. This is why it is the best choice.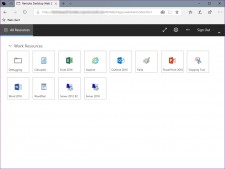 PRAGUE, July 27, 2018 (Newswire.com) - Discover the power of TSplus HMTL5 Client over the new Microsoft Desktop Web Client.
TSplus HTML5 Client is fully compatible with all Windows OS, giving full remote access to Windows Apps and desktop. It is the easy way to publish applications and connect from anywhere, just using internet and the TSplus Web Portal. Plus, it is easy to customize it with Corporate identity, by changing the background and adding logos.
Microsoft Desktop Web Client
TSplus HTML5 Client

Windows Server 2008 R2, 2012 & R2, 2016 and 2019 support

Windows XP, Vista, W7, W8 Pro, W10, Server 2003, 2008 & R2, 2012 & R2, 2016 and 2019 support

Chrome, Edge, Firefox, Explorer 11 and Safari

Any browser: Chrome, Edge, Firefox, Explorer, Safari, Opera + Java-enabled browsers

Chromebook, Linux, macOS, Windows OS. No support yet for iOS and others mobile OS

Any device: Linux, Windows, MacOs, iOS, Android OS...

Web Portal: Windows credentials

TSplus Web Portal Credentials: Pin Code or personal Email / option: 2FA

Single Sign On access to multiple Windows apps

Single Sign On access to multiple apps or full Remote Desktop

Remote Printing with PDF capabilities

Universal Printer with PDF capabilities

Keyboard and mouse support

Keyboard and mouse support, responsive display

Secure HTTPS connections & SSL certificate generation in few clicks

No customization possible

Fully-customizable HTML5 client with display, audio and mobile devices settings. Enable a taskbar or a floating/application panel in your session.
Fully-customizable Web Portal where you can set up your own logo, title, login display text, background images...

No Top Menu

HTML5 Top Menu: In your session, you will find a top menu enabling you to easily print, do files transfers, facilitate mouse-control on mobile devices and use a clipboard.

Pre-requisites:

Secure Remote Desktop Gateway
Remote Connection Broker
Remote Desktop Web Access setup
Use of Per-User CALS
Public trusted certificates configured for the RD Gateway and RD Web Access roles
PowerShell commands to install and update or uninstall
Web Application Proxy

Pre-requisites:

TSplus Mobile Web or Enterprise Edition
Web Browser
Internet connection
Secure Gateway optional, included in the Enterprise Edition
To discover to discover how TSplus Remote Desktop's functionality outperforms Microsoft' RDS Client's, check the following page: https://www.terminalserviceplus.com/remote-desktop-services-alternative.php
Also, it is easy to understand TSplus advantages over others competitors with the competitive analysis and various articles.
Please note that TSplus kernel is automatically updated on every TSplus server with a working Internet access, so most customers' servers are already up-to-date with the latest Windows Update.
For more information, visit www.terminalserviceplus.com
Source: TSPlus
Related Media
Tags
Additional Links