Miami VA Employees Win Spirit of Community
Marsha Latham, Gina Queen cited for role disrupting veteran homelessness
Press Release
-
updated: Aug 23, 2018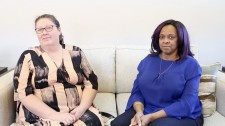 PEMBROKE PINES, Fla., August 23, 2018 (Newswire.com) - Two employees of the Miami VA Medical Center were recognized this week with the 2018 Spirit of Community award from Purpose Built Families Foundation.
Purpose Built CEO Seth Eisenberg announced recognition of Miami VA Social Workers Marsha Latham and Gina Queen for "exceptional leadership and dedication strengthening community collaborations that improve outcomes for veteran families," highlighting their role ending chronic homelessness for military veterans in Miami-Dade County.
"Marsha Latham's visionary leadership of the Health Care for Homeless Veterans (HCHV) Program and Gina Queen's tireless commitment to the highest level of customer service delivered through public/private collaborations represents the spirit of community our veterans have earned," Eisenberg said.
Yamaris Arbitman-Quiles, Carrfour Supportive Housing's Program Director for the Operation Sacred Trust Supportive Services for Veteran Families collaboration, said Latham and Queen's multi-year efforts on behalf of homeless veterans were instrumental to the declaration this month that Miami-Dade County had ended veteran homelessness.
"From her earliest days leading Miami VA's HCHV program, Marsha Latham sent her team into the field to ensure they brought VA services directly to consumers in urgent need - our homeless veterans," Arbitman-Quiles said.
Arbitman-Quiles added, "Gina Queen's outreach to homeless veterans where they are, her commitment to building collaborations with community partners that begin and end with meeting our veterans' urgent needs for rapid, coordinated care and the expertise, understanding and compassion she brings to every point-of-contact defined VA for many, many veterans."
Eisenberg said he became familiar with Latham's leadership during a weeklong professional training he led for the San Diego VA Healthcare System in 2011.
"Marsha stood out as a professional motivated by the highest ideals of public service and the very personal veteran experiences of her own family," Eisenberg said.
"We're fortunate the expertise she developed in southern California became a foundation for our efforts to serve South Florida's veterans," he added.
Earlier this month, the Miami Herald reported: "Miami-Dade County was added to the dozens of local governments that Washington says can declare victory" ending veteran homelessness.
"When homelessness happens ... it should be brief, rare and non-recurring," Ben Carson, the nation's housing secretary, said at an event in Doral celebrating the designation.
"In spite of all the political disagreement we see in the country today," Dr. Carson added, "this is one issue we can all agree on."
The 2018 Spirit of Community award recognized Latham and Queen for: "community collaborations that improve outcomes for veteran families impacted by trauma, homelessness, and poverty on behalf of our sacred trust to those who have borne the battle and their loved ones."
Purpose Built Families Foundation is a nationally accredited nonprofit that works towards "a future in which every human being has the opportunity to experience life, liberty and the pursuit of happiness."
The Pembroke Pines-based company advances its mission through "evidence-based, client-centered, holistic services, education, training, technology, research, and related charitable activities that measurably disrupt cycles of poverty and create more resilient families, neighborhoods and communities."
Source: Purpose Built Families Foundation
---
Categories: Federal Government
Tags: Department of Veterans Affairs, homelessness, Supportive Services for Veteran Families, Veterans
---