Miami Mold Specialists Announces Launch of Revolutionary, VOC FREE, Eco Friendly, Odor Removal Service in South Florida
Press Release
•
updated: Feb 7, 2018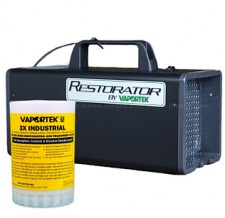 MIAMI, February 7, 2018 (Newswire.com) - Premier South Florida-based indoor environmental service provider, Miami Mold Specialists, announces new odor removal clearance certificate service for residential, commercial, institutional, and marine applications.
Anyone that lives in South Florida understands the many daily struggles of maintaining a clean, comfortable, healthy living environment. The heat and humidity alone is enough to drive most people crazy, never mind keeping up with properly maintaining an HVAC system, fixing leaks, roof repairs, water-proofing a home, maintaining proper ventilation, or any other preventative action that safeguards a home or building from odors, germs and bacteria, mold, and other indoor environmental hazards alike.
With life keeping everybody busy, sometimes the "honey to do list" simply gets longer and longer, leading to a poorly maintained home. As such, Miami Mold Specialists has apparently observed this while working countless jobs throughout South Florida, and has since been extremely busy proactively launching innovative new services to assist people with these many issues.
According to Miami Mold Specialists' website - "The Restorator uses organic solutions to release non-toxic, odor neutralizing, dry vapor into the air. It's able to treat areas up to 20,000 cubic feet to effectively eliminate odor contamination quickly and safely. Primarily intended for delivering a fast, high- intensity treatment, it uses organic cleaning solutions to release a nontoxic, odor-neutralizing dry vapor into the air. Penetrating vapor quickly controls and eliminates malodor caused by smoke, humidity, food, and mold among others."
Read more about Miami Mold Specialist's new odor elimination services at www.miamimoldspecialists.com/odorremovalservice.
Miami Mold Specialists has also created a spin-off odor removal service for homeowners, landlords, property management companies, and building owners that are dealing with a seemingly growing problem, non-compliant tenants growing or using marijuana illegally. Miami Mold Specialists' new odor removal service is used by homeowners, landlords, and property management companies across South Florida to assist directly with clearing local and state citations through use of special clearance certificate processes and services.
"One of the other new main odor removal sub-services Miami Mold Specialists launched, marijuana odor elimination services, was created specifically for landlords, property management companies, realtors, cleaning companies that have a severe issue associated with the smell of either the growth of marijuana or burnt marijuana."
Information about Miami Mold Specialists' exclusive marijuana odor elimination services can be read at www.miamimoldspecialists.com/exclusive-marijuana-odor-removal.
About Miami Mold Specialists
South Florida's Premier Indoor Environmental, Air Quality, and Mold Remediation Service Provider; Miami Mold Specialist: High Tech and Eco-Friendly Indoor Air Quality, Mold Inspection, Mold Removal, Mold Prevention, and Water Purification Services. Multi-Certified, Licensed, Bonded, and Insured. Over 30 Years Experience. https://www.miamimoldspecialists.com/exclusivesolutions
### MEDIA ONLY CONTACT:
Company Name: Miami Mold Specialists
Contact Person: A. Katz
Email: Send Email
Phone: 305-763-8070
Address:1240 11th street Unit 8
City: Miami Beach
State: FL 33139
Country: United States
Website: www.MiamiMoldSpecialists.com
Source: Miami Mold Specialists
Related Media
Tags
Related Files
Additional Links